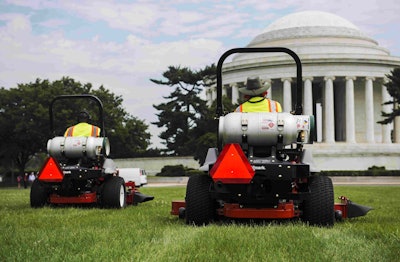 I'll admit: I was a skeptic of propane and alternative fuels when they first made their debut in the green industry. I knew it would take a combination of factors for these resources to have any longevity – continually high gas prices, education on benefits, emissions regulations and dedication to sustainability. And guess what – all of those things happened.
Switching an entire fleet to electric or propane power might not make sense for every landscaper, but it could in the near future if the current trends continue.
"Five to six years ago, there was only a handful of OEMs with models available on propane," says Jeremy Wishart, senior programs manager for the Propane Education & Research Council (PERC). "Flash forward a few years and many of the OEMs are being pulled into the propane market by consumers/buyers who originally needed a propane mower to meet alternative-fuel specs in bids but quickly realized using the fuel allowed them to cut fuel costs."
At this year's GIE+EXPO, major manufacturers showcased this sustainable evolution with features like mower propane conversion kits and electronic fuel injection (EFI) engines. There are 16 OEMs that manufacture propane mowers, Wishart says.
The once completely gasoline-dictated industry is making room for battery packs, propane tanks and electronic engines. And it doesn't look like they are going anywhere.