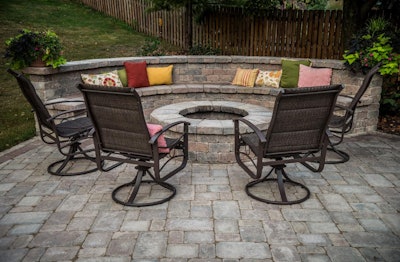 For landscapers wanting to expand their services to include fire features or those who want to improve their techniques, Jeff Blunkosky, owner of Pittsburgh Stone & Waterscapes in Pittsburgh, Pennsylvania, offers these three tips.
Find resources. "Talk to a distributor before taking on a job you've never done in the past," he says. Blunkosky also recommends finding other landscape contractors outside of the area who are willing to discuss their techniques. Some manufacturers will put landscapers in contact with others.
Watch and learn. Hardscape manufacturers, like Unilock, Cambridge Pavers, Belgard Hardscapes, Pine Hall Brick and Keystone Retaining Wall Systems, provide training sessions where landscapers can

learn and watch techniques

first hand. "Most contractors are mechanical people," Blunkosky says. "So once they see and hear it described, it makes sense." (Read how hardscape certifications can boost your business

here

.)
Practice. Once learning the concept, landscapers should first practice before installing a fire feature for a client. "Don't go out there on a whim," he says. "That's a good way to get burned on the first job." Instead, they can construct one on their property or at their business.
To read more about fire features, including how to install and market this service, read the February issue of TLC.