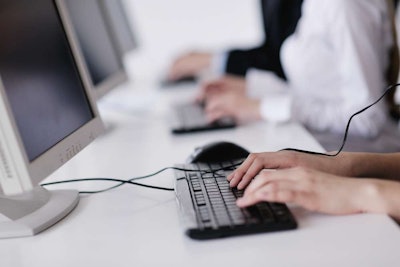 Webinars can be an integral part of any business, especially landscaping.
Even though most of the work is done in the field, crews, owners and business managers need to be trained in a variety of subjects to make the fieldwork worthwhile.
However, landscapers don't need to attend every webinar. Being picky about what you want your employees to learn can be a good thing.
For instance, if your company is just stepping into the irrigation market, it might be a good idea to check out webinars from Hunter Industries or RainBird.
However, if your company doesn't focus on irrigation, there are other webinars that could be more beneficial for your employees.
PLANET, the Professional Landcare Network, and the Irrigation Association both host a variety of webinars that landscapers should be attending.
Many times, webinars are free, but even if they are not, successful industry professionals are providing valuable information. Also, webinars leave room for a question and answer segment, which is a perfect time to get some important questions answered or get feedback from others.
However, it's important to avoid one key mistake many professionals make while attending the webinar – doing work.
It's very tempting to sit at a desk and continue to work while half listening in on a webinar.
However, half listening is like doing a job half way. Unacceptable right?
If you're going to invest time into a webinar, make sure to really invest your time.
Here are a few tips from the Harvard Business Review on how participants can maximize their webinar experience:
Choose webinars carefully. Time is limited and not all webinars are created equal. When selecting which webinars to attend, consider how much value each will provide for particular projects with which you're involved.
Watch the webinar with a group. Not only does this practice make employees more likely to attend and pay attention during webinars, but it also signals the importance of the topic and the value that the organization's leadership places on professional development.
Take and distribute notes. Taking notes helps participants pay attention. Distributing them to relevant colleagues is not only helpful for those who weren't able to attend the session, but it also gives the note-taker recognition as someone who has learned and synthesized the material presented during the webinar.
Use the webinar to network. When presenters and other registrants distribute their contact information, don't be shy about following up with questions or ideas. It's perfectly acceptable to use the shared experience of the webinar to present queries on other topics, too.
Ask questions. Take advantage of technologies that allow you to ask questions of presenters, following up in an email if your question doesn't get asked or answered. In addition, talking to colleagues about questions or themes that emerged from the webinar can be an important piece of understanding the information and making it work for your organization.
Upcoming PLANET webinars:
Wednesday, March 12
1:30 – 2:30 p.m. EST
Why Having a Business Coach or Consultant is a Great Investment
Jonathan Goldhill, The Goldhill Group, PLANET Consultant Member
Register: Free for PLANET Members; $99 for Nonmembers; State Members Click Here
Business consultants and business coaches have been around for decades and are becoming increasingly popular among landscapers. Jonathan Goldhill, The Goldhill Group, will provide an overview of what is coaching vs. consulting; the reasons why people invest in coaching, the different types of coaches and consultants out there, the role these specialists play in a company and the results you should expect from them. He will describe and contrast the common and popular types of programs including: group coaching, team and individual coaching program, business consulting, peer groups, e-learning programs and more.
Thursday, March 13
1:30 – 2:30 p.m. EST
Irrigation – Is 15 Minutes for Sprays and 45 Minutes for Rotors Good for the Plants?
Kurt Thompson, Irrigation Director, Massey Services, PLANET Service Provider Member
Register: Free for PLANET Members; $99 for Nonmembers; State Members Click Here
Minimizing wasted water while keeping the plants healthy is the goal of every irrigation system. But for even a well designed and installed system, the irrigation schedule system is often created based on guessing or using the generic standard of 15 minutes for the sprays and 45 minutes for the rotors. Neither considers the water needs of the plants based on the conditions in the landscape or the time of year. This leads to too wet or too dry conditions. Sometime both in the same irrigation zone! Join Kurt Thompson as he teaches the irrigation manager and landscape maintenance or irrigation contractor the basics behind determining a simple irrigation schedule using the plant water needs, sprinkler application rates, and evenness of coverage: Create a simple irrigation schedule based on what the plants really need without guessing; Use industry standard worksheets and data used to create science-based irrigation schedules.