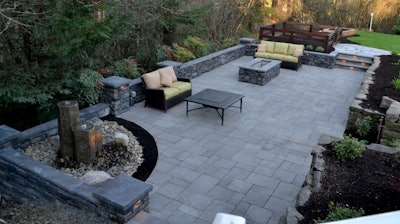 A lighting project soon turns into a complete outdoor living space renovation.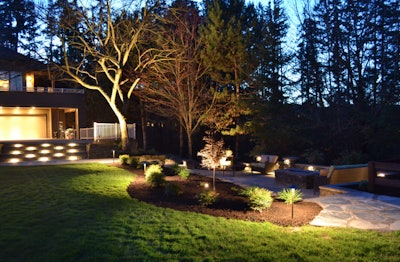 What started as an outdoor lighting project for these Beaverton, Oregon, homeowners soon became a backyard transformation after they met with Lewis Landscape Services.
"We noticed the clients had this nice area in their yard where a paver patio had been installed previously, but the work hadn't really been done well," says Jim Lewis, owner of Lewis Landscape Services. "I mentioned if they ever wanted to redo that area, please give us a call. I got them excited about some of the things we could do down in this area and just planted a seed."
A month later, the clients were meeting with Lewis's designer to talk about a complete outdoor living space with a fire pit, seating area, water feature, rabbit-proof garden, improved safety, plantings and lighting.
The seat walls and fire pit were done with cultured stone to complement the front of the house, and the stone masons also created custom faux-stone, chiseled concrete caps.
They added LED Kichler hardscape lights underneath the caps. For the patio, they used about 900 square feet of Capriana pavers from Pavestone, and they installed charcoal-colored bullnose pavers for the steps.
After completing the hardscape phase, they added a stained fence with a custom gate, which covered the wire fencing, around the garden area to keep rabbits away. The team also installed a three-rock column bubbler fountain, plants and more LED lights.
"Our clients ended up finally having the area they dreamed of and have been enjoying it all summer," Lewis says.
Project: Private residence, Beaverton, Oregon
Landscaping: Lewis Landscape Services, Portland, Oregon