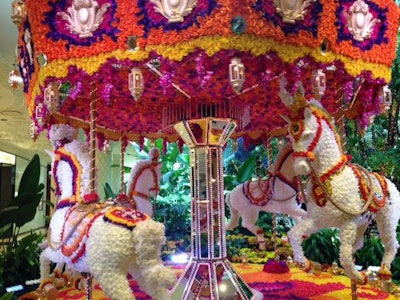 The Las Vegas Strip is known for its flashy, over-the-top buildings and attractions. Not only are the exteriors of the elaborate hotels and casinos impressive, but the interior spaces don't disappoint either.
One especially eye-catching space is in the Wynn's gardens. And by "gardens," I don't mean anything you've ever seen before.
There's a carousel and hot air balloon made of flowers. It's like you're at the Rose Bowl Parade in Pasadena.
From far away, these blooming structures could pass for the real thing. It isn't until you take a closer look that you realize those colors, shapes and materials are all flowers.
As visitors walk between the two structures, they go through a canopy of living trees, hanging flower balls and other greenery.
Like you would guess, creating this space was no easy task.
Wynn hired designer Preston Bailey to create the carousel and hot air balloon.
It took Bailey and his team more than 3,500 hours to design the two structures.
The hot air balloon is 20 feet tall, weighing 4,000 pounds, and the carousel is 13 feet tall, 16 feet wide and weighs 6,000 pounds.
Altogether, they installed more than 110,000 flowers.
But this area is not a one-time deal.
The maintenance team replaces more than 5,000 seasonal flowering plants in matching color palettes to foster a dynamic environment every three weeks.
Between the two massive flower arrangements, there are ficus trees surrounded by different species of dark and light green base plants.
They are adorned with floral sculpture balls that contain almost 50,000 flowers.
The hotel also has two gushing waterfalls and a stream outside, which counteract the street noise from The Strip.
Next to the restaurant seating area, there's also a curtain waterfall that falls into a 3-acre lake. Visitors can enjoy a show at this feature, called the Lake of Dreams.