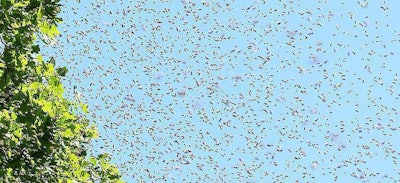 A single bee sting can hurt and be uncomfortable, but imagine hundreds of stings and being surrounded by a cloud of killer bees. That's exactly the scene a group of landscapers experienced last week.
An estimated 800,000 bees from a 3-by-8-foot hive swarmed and attacked four landscapers in Arizona, killing one and injuring several others.
The men were mowing grass and weeding for a homeowner when the bees came out of an attic and attacked the crew. One of the workers died and another was stung more than 100 times. He has since been released from the hospital. The other workers, police and fire fighters also got stung.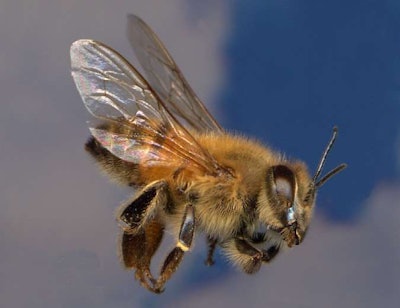 Although bees are not uncommon for this area — with police and fire crews routinely carry protective bee suits in their vehicles — the fire chief said he had never seen something of this magnitude.
They treat the bees as Africanized killer bees, which are known to attack relentlessly and in large numbers. It's not their venom that make them so toxic, it's that they continue to pursue the source of the disturbance.
The exterminator who was called to kill the bees estimated their colony had been growing for at least a decade, according to the Washington Post.
"They were dropping down at me even before I started approaching it," exterminator Jesus Corella told Tucson News Now. "That was before I started spraying. They were dive-bombing me, and that's a sign to back off, back way off." The hive filled a 55-gallon drum after extermination, Novoa said.
The landscapers were with the Douglas ARC, which finds jobs for people with developmental disabilities.