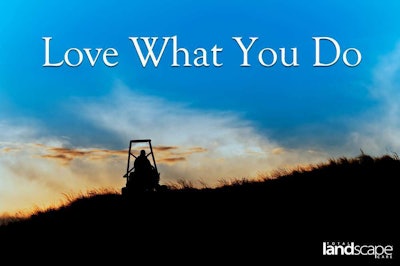 Every day, you're usually the first one up, the first one out the door and the last one to go to bed.
Every day, you're running a business, mowing lawns, making calls, answering emails, paying bills and that's just the top of the list.
Every day, you're turning the impossible into possible and making a living doing it.
Every day, you may think it could be your last in business.
But, every day turns into another day.
And every day, you go to bed feeling accomplished.
Landscapers have one of the toughest jobs out there – up early, long hours, weathering the elements year round and so much more.
However, at the end of every day, landscapers go home loving what they do.
Most importantly – a landscaper doesn't jump into a business having 50 employees. A landscaping business usually starts with a pickup truck, a mower and a lot of tough work.
Day in and day out, plugging away, making enough just to get by – but landscapers still love what they do.
There's never just one reason why landscapers love what they do, but what I hear the most often is, "Because I can't imagine doing anything else."
If you love what you do and wake up every day greeting the day with a smile, you will always believe you have the best job in the entire world.