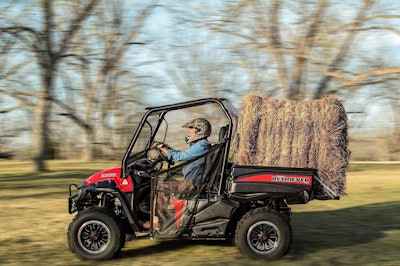 Mahindra recently launched its most powerful UTV yet, which offers industry-leading horsepower and towing capacity.
The 1000cc Retriever packs 83 horsepower, which can get the vehicle up to 60 mph and deliver best-in-class towing at 2,500 pounds.
"Our dealers are enjoying great success with the Retriever line-up and we are pleased to add the 83-horsepower model to fill the needs for an expanded customer group," said Matt Glendon, Mahindra's director of utility vehicles. "With more colors and engine options, there is a model to fit the many different uses for utility vehicles on farms, multi-acre properties and for outdoor sports.
"While delivering outstanding performance, these vehicles are also built for outstanding comfort with deluxe bucket style seats and plenty of leg room to provide a great driving experience for our customers," Glendon added. "We are pleased with the initial reaction to the Retriever 1000 gas model, it began selling as soon as it hit the floor at National Farm Machinery Show last week."
This sportier version of the Retriever began shipping to Mahindra dealers this month and provides a new option for customers requiring more speed and power. This new model is available in signature Mahindra red, olive green and authentic RealTree AP camo and offers a choice of black or aluminum wheels.
The Retriever is designed to offer a comfortable ride through a continuously variable transmission that provides seamless shifting, a smooth take-off and low vibration. The Retriever 1000 gas engine UTV carries Mahindra's category-leading three-year limited powertrain warranty.
The Mahindra Retriever comes in single-row, crew and long-bed models in both gas and diesel powertrains with a standard cargo box with electric dump or Mahindra's industry-exclusive Flexhauler cargo box. New changes for Retriever models include:
New dash with 4.3-inch digital gauge
Automotive style LED headlights
Front brushguard with bull bar
Deluxe bucket-style seating
Redesigned steering wheel & shifter knob
New wheel design
Other specs on the Mahindra Retriever 1000cc UTV include:
12 inches of ground clearance
19 inches of cab entry space
Standard electric cargo box dump
Standard front & rear receiver hitches
EDITOR'S NOTE: This article was written by Hard Working Trucks' staff.