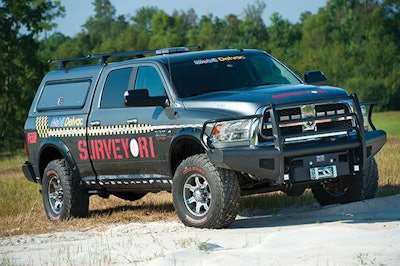 A bed cap and custom surveyor cargo storage system protect valuable equipment and set the stage for serious work in the field.
Land surveyors carry a variety of items in their pickups to the jobsite every day. But unlike typical landscape contractor's tools, professional surveying equipment is sophisticated, expensive and delicate. It needs to be treated with care and protected like a professional photographer does camera equipment.
There's also a lot of it: tripods and bipods, theodolites to transits, survey stations and GPS data collectors to levels, prism poles and planimeters. And then there are the shovels, stakes, sledge hammers, brush axes, twine, roll flagging, grade stakes, nails, safety vests, boots and a number of other tools and gear that don't require any special care.
Each item has its purpose, and each has a place within the surveyor's truck. The challenge is fitting all of those tools and equipment in an orderly manner in a pickup bed – a nearly impossible task unless there's a special storage system to accommodate the wide variety of shapes and sizes.
Those tools and equipment also need to be protected: It's not uncommon for a modern survey crew to have $20,000 in just electronic mapping equipment for a two-man team. Bring along a second crew for a larger job, and protecting the valuables in the bed from the bad elements (human and Mother Nature) become a major concern.
That's where a high-end bed cap, or topper, and a well-designed, lockable cargo storage system come into play on Surveyor 1.
Bed security
Supplying business owners a way to protect valuables in their pickup beds from the elements has been the forte of Ohio-based A.R.E. for more than four decades.
The company is the only ISO-certified truck cap manufacturer in the world, and they use OE-quality locks, D.O.T.-approved safety glass and brake lights to go along with DuPont basecoat/clearcoat paint to match the truck. They also offer custom, secure bed storage systems built in partnership with Truck Vault.
That's why we turned to A.R.E. and Truck Vault when it came to outfitting Mobil Delvac/Ram Truck Surveyor 1's bed with a locking cargo storage system and bed cap that would fit a land surveyor's work needs.
Cap & drawers
The topper we slid on our Ram 2500HD 4×4 Crew Cab diesel is an A.R.E. ToolMaster, which is a fiberglass, commercial cap featuring heavy-duty side doors with built-in storage compartments, aluminum window insert for added security, built-in LED lighting in both the compartments and interior and BOLT locks so the Ram's ignition key can be used to secure it all. It's also painted to match the Ram's factory paint.
If one needs to carry longer items, the ToolMaster roof is designed to carry several hundred pounds on an aluminum rack. It's a standard feature on ToolMaster Series caps.
But, we opted not have it on Surveyor 1 so we could keep the truck's profile sleek. The cap does have built-in rails, so it'll accommodate a variety of racks if/when needed at a later date.
Truck Vault's 300-pound "Surveyor" cargo insert, custom built to our needs, was also installed. It, too, is heavy duty with a quality of materials and build that would make any custom cabinetmaker proud. It has a pair of 70-inch long, 20-inch wide, 10-inch deep carpeted-and-locking, slide-out drawers in the custom-made insert.
The slide-out storage drawers are bed-length to accommodate expensive equipment – while the open nooks, also bed-length, are ready to take any other tools, gear and supplies.
Weldon Banks, the manager of Topper World in Gulfport, Mississippi, did the installation of both products, loading in the Surveyor storage unit first followed by the A.R.E. ToolMaster cap. The Truck Vault unit locks in place using cable tie-downs that attach to the Ram's built-in bed anchors. The cap is secured to the bed rails using A.R.E.'s locking clamps.
Warren Spears at Spears' Auto Repair in Long Beach, Mississippi, took Surveyor 1's bed upgrade one step further by using A.R.E. bed cap liner material to carpet the white metal storage compartments interior and exterior to match the Truck Vault's carpeted unit.
The end result is a professional surveyor's workstation that can be locked up, while keeping everything in an orderly manner.
For the Surveyor 1 Sweepstakes, the ProPickup editors transformed a 2013 Ram 2500HD 4×4 Crew Cab truck into an even more versatile, power tool for the jobsite. One contractor will win this truck after the build is finished.
SURVEYOR 1: Presented by Mobil Delvac & Ram Commercial Trucks
Supporting Sponsors
Special Thanks: Warren Spears, Spears' Auto Repair, Long Beach, Mississippi; 228-863-1878