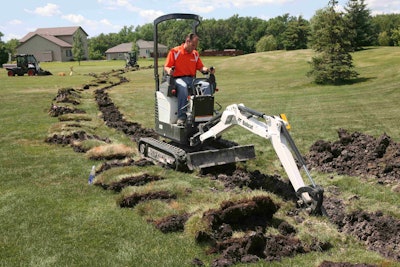 Cost-effective and efficient excavation work is one facet of running a successful landscaping business. There is a wide array of machines available to handle basic trenching work – even skid-steer loaders can be fitted with highly effective trencher attachments. But the two machines landscapers turn to most for high-production trenching are hydraulic trenchers and compact excavators.
A comparison of the two machine types shows interesting similarities and intriguing differences. Plugging in your specific business requirements and making the right choice should be a fairly easy exercise.
Streamlined production
"Trenchers have been around for a long time and are high-performing machines," says Kevin Smith project manager, construction utility equipment, Ditch Witch. "A trencher is the machine you want if you consistently have to dig a ditch or a trench from point A to point B. The trencher can do that efficiently and can handle the spoil excavated from the trench easily."
There are two types of trenchers commonly used: ride-on and walk-behind models. Ride-on machines come in wheeled or tracked versions, although smaller, rubber tire versions are more popular in landscaping applications. Many trenchers can be fitted with several attachments to aid in utility line installation procedures. Ride-on models can rival compact excavators in terms of initial machine cost. And while larger trenching units can require larger trailers for transportation and are somewhat limited when maneuvering in residential or crowded working conditions, small trenchers do not have any trouble in either of these regards.
Most landscapers will opt for walk-behind trenchers, which are cheaper to purchase than compact excavators, but can still excavate impressive lengths of trench in relatively short periods of time. Larger walk-behind models can excavate trenches to depths of approximately 4 feet and up to 6 inches wide. Small ride-on models (in the 40- to 60-gross-horsepower range) can excavate trenches to depths of approximately 6 feet and up to 1 foot wide.
Tight space versatility
"Compact excavators have really come along in the past decade and have found their niche with landscapers who require a high degree of versatility," says Jon Kuyers, RT/compact segment manager, Vermeer. "They really shine in hardscaping-type work where they allow you to not only dig, but also lift, place and backfill material – none of which you can do with a trencher. If you fit the machine with a small breaker, you can remove an old concrete patio. So the versatility aspect compact excavators have is very attractive to a lot of contractors."
In addition, Smith notes, compact excavators are ideal machines for landscapers who must work around obstacles in yards such as trees, walls, patios and other structures. "A compact excavator may not give you as much feet per minute as a trencher will," he cautions. "And you're not going to be able to install extremely narrow trenches down to a 4-inch-wide, 2-foot-deep ditch."
At the same time, both Kuyers and Smith note that compact excavators and trenchers can complement each other extremely well on trenching and irrigation jobs. The compact excavator can be used to dig starting and exit pits – essentially setting the job up and handling the associated material that is displaced. Once the job is prepped, the trencher can do the main work between point A and point B.
In the end, the equation boils down to application strengths and your need for speed versus versatility. If you're simply installing irrigation lines day in and day out, a walk-behind trencher is going to be the economical choice for your business. Likewise, if you only install irrigation lines occasionally, but your job requires more than just digging ditch from point A to point B, an compact excavator is probably the best choice.