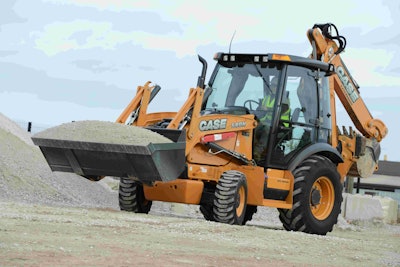 Backhoe loaders have launched innumerable construction careers since they appeared over 50 years ago. Today, the traditional combination of power and versatility offered by the original backhoe design has been supplemented with more powerful engines, robust hydraulic systems, comfortable cabs with ergonomic control systems and a wide array of attachments that further increase these machines' capabilities on the jobsite.
But backhoes are large machines, more at home putting up an office building or building a highway overpass, right?
"I think backhoes suffer from a bit of an image problem among professional landscapers," says Jim Hughes, brand marketing manager, Case Construction Equipment. "It's true that backhoes excel on large construction jobsites, but they have many advantages that allow them to work extremely well in landscaping and nursery applications."
"The most obvious advantage is that you have two machines in one," says Bob Tyler, product specialist, John Deere. "It's a machine with a loader on the front end and a hoe on the back end. This allows them to do multiple jobs well."
For example, Tyler says if you need to bury a pipe four feet in the ground and cover it up afterward, a backhoe saves you from buying two separate pieces of equipment – an excavator to dig the trench and a 4WD loader to fill the trench after the pipe is set.
"A backhoe can do both jobs," he notes. "They can also be useful in more extreme situations," he adds. "One example is steep side slope work or in uneven rocky conditions. On a slide slope, the backhoe has the ability to lower the downhill stabilizer and rotate the backhoe boom uphill for extra stability when grading or removing material with the loader. An excavator may also be more limited when traversing more severe undulations if rocks are underfoot."
"Backhoes are important additions to a landscape contractor because they make you more versatile and more productive," Hughes adds. "The additional power and capability a backhoe offers gives you the opportunity to bid jobs that may have been too large in the past. For example, if a landscape contractor uses a skid-steer loader as his primary piece of equipment, he may not be able to final grade as efficiently in a new residential construction community. Also, if a landscape job requires larger trees to be planted, a skid-steer loader may not have the capacity to carry the trees. But backhoes have a higher lift capacity than a skid-steer loader."
Customized financing options for landscapers
Admittedly there are backhoe factors that steer many landscaping contractors toward other types of compact construction equipment. Backhoes are larger machines, which can lead to transportation issues for some landscapers. According to Marcello Bargellini, product specialist, Volvo Construction Equipment, "Large backhoes require a large truck – typically a Class 7 or 8 low-boy or dump truck – for transportation."
These trailers, Bargellini notes, should have a minimum payload capacity of 16,000 to 19,000 pounds. "So a 10-ton capacity trailer is sufficient," he says. "But I have also seen large backhoes being towed behind a GMC 3500 Series pickup truck before. So a large truck is not necessary. But a large trailer is."
It's worth noting that the size of the truck and the weight of the backhoe are especially important for companies with non-CLD-certified drivers.
"That can be an additional concern for landscapers," Hughes adds. "But on the other hand, backhoes are much faster than compact construction machines. This faster travel speed of the loader backhoe makes them more productive on jobsites. Case loader backhoes have a travel speed of 25 mph, so on a larger job site or a site with a long distance between materials, the higher travel speed is advantageous because you can easily road them between different jobs."
Despite their impressive maneuverability traits, the simple fact is that backhoes cannot compete with compact pieces of construction equipment when it comes to moving around on many constricted, suburban jobsites.
To counter their larger size, you can spec backhoes with different steering modes to handle a wide array of working conditions. "These steering systems are easily actuated by a dash-mounted switch," Hughes explains. "You can have the machine run in standard, two-wheel steering mode, select four-wheel steering for maximum maneuverability and turning radius, or crab steer, which allows the machine to move sideways at an angle to get into tight, difficult areas."
Also, Bargellini says, "Smart landscapers will spec their backhoe with high-flotation tires to minimize turf damage. While these high flotation tires are not common, they can make a huge productivity difference on sensitive landscaping projects."
A final sticking point for many landscapers is price: A single backhoe can cost as much as two pieces of compact construction equipment. But, Hughes notes rental applications can easily provide you with an end-run around basic backhoe transportation and cost concerns.
"Rental or leasing programs – including rent-to-own options – are always available if you only occasionally need the extra power and capability a backhoe offers," he says. "You should only purchase a backhoe loader if you are certain you can get your return on that investment in reasonable period of time."
If you do make that determination, Hughes says your local dealer can provide a wide range of financing plans to tailor a backhoe purchase to your business. "Case Finance has been proactive and creative in tailoring purchase plans to professional contractors and landscapers," he explains. "For example, we understand that landscaping is highly seasonal in the Northern parts of the country. So our dealers offer plans that will allow you to skip making backhoe payments during the winter months when your business is idle, and resume payments once the busy season ramps up again. It's a nine-months-a-year payment plan, and it's just one of many finance options available to you."