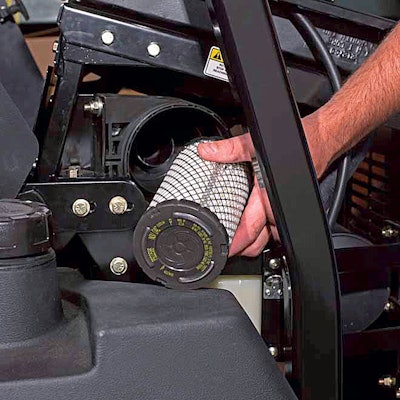 Regular maintenance, common sense procedures and adherence to manufacturers' guidelines can keep mowers, rototillers, tractors, aerators, powered seeders and other equipment breathing easy and humming right along.
On the other hand, telltale signs like poor power, difficulty starting and black smoke when running, likely mean that closer attention is required to get an engine back up to snuff.
And these rules hold true for both small gasoline and diesel engines. Poor air filtration "can be the death of a small engine," says Bill Gearhart, marketing and product manager, Yanmar Construction Equipment. "If you get any abrasive particles in the engine, it's not going to do it any good," he explains. "The most common problem is that it gets into the cylinders, and then wears the piston rings away. The piston rings' job is twofold: They seal compression so it doesn't escape up into the engine block, and keep engine oil out of the combustion chamber."
Troy Halverson, team leader-product support department, Wacker, agrees that air filtration on small engines is very important. "To perform properly, these engines need to consume large amounts of clean air at high velocity," Halverson notes. "Proper filtration becomes extremely important, particularly for engines used in construction or landscaping equipment."
"Imagine the environment this equipment works in," Halverson points out. "Large clouds of dust and debris are being created. This abrasive material is ingested into your engine. Soon, the precision tolerances and fits throughout the engine are gone, resulting in a loss of power and internal damage."
That means application has a tremendous bearing on a unit's maintenance requirements. Take a rototiller, for instance, says Mark Nelson, product service trainer, Briggs & Stratton Commercial Power. "A rototiller works in an environment where the dirt is flying all the time," he notes. "For that reason it's going to need more attention than a mower or something else that operates in a relatively clean environment."
"You certainly have to look at time and operating conditions," notes Ed Cole, manager of technical services for Toro's Landscape Contractor division. "If it's very dusty and dirty you can expect that you're going to have trouble a lot sooner than you would under good moist conditions. Other than that, you follow the engine manufacturer's guidelines."
Weighing factors
High-end equipment in heavy-use applications will have the most advanced forms of filtration. Often designed by the equipment – as opposed to engine – manufacturer, these systems usually comprise several different filtration stages handling various types of contamination. They will also typically be oversized for the application and have the highest replacement cost, but also provide the highest level of engine protection.
Mid-range equipment will typically use the engine manufacturer's existing air filtration system. These systems are designed for the average type of use the engine would normally see. Budget equipment, typical in homeowner-grade products, may be equipped with low-cost, reusable filters made of foam or fine plastic mesh.
The best type of air filter is manufacturer-designed for the machine. There are pros and cons for centrifugal (cyclonic), paper, mesh and foam filtration systems. Most equipment will utilize combinations of two or more of these. The wrong type of filter is one not designed for, tested or recommended by the manufacturer.
While the equipment manufacturer's recommendation on filter maintenance should always be followed, it should be visually checked daily before use. Inspect any connecting hoses and the media for damage or debris. If you have a question about a filter's condition, change it and consider it low-cost insurance for the engine. Also change air filters when a decrease in engine performance is noticed, the media is damaged or it can no longer be cleaned.
If the filtration system is not checked regularly you risk, at a minimum, poor engine performance up to catastrophic engine failure, Halverson says. Installation of an incorrect filter may also produce the same results.
"For the most part, your equipment will tell you that you may have an air filtration problem," Halverson says. Low power, black smoke, a rough-running engine and a sticky residue around the exhaust are common indications that filters need attention. That's because excessive fuel being drawn into the engine cannot be burned, and will create one or more of these conditions.
The methods of retaining, holding and securing filters vary. But regardless of the type, before removing the filter media, make sure that any debris is removed from the housing to prevent it from entering the air intake.
---
Dos and Don'ts
Mark Nelson, Briggs & Stratton Commercial Power, and his colleagues regularly advise customers on the dos and don'ts of maintaining air filters.
Some of their guidelines include:
Replace pleated paper air filter elements annually.
Never use compressed air to clean a paper filter element, as high pressure can make a hole in the filter media and allow dirt to enter the engine. For the long-term health of the engine, it's best to simply replace dirty or clogged paper air-filter elements.
For engines equipped with a foam pre-filter, wash the foam in warm water with liquid dish soap and squeeze dry in paper towels. If your owner's manual calls for oiling the foam filter, do so sparingly. Too much oil may saturate the paper media and not let air pass through. In addition, too much oil can actually attract dirt to the filter area.
Double check the filter element and air cleaner cover to see that they are installed correctly to properly seal out dirt. Improper installation of the cover can lead to dirt bypassing the filter and cause an engine failure.
Utilize only original equipment manufacturers replacement parts to ensure top performance and maximum reliability and long-term engine durability.
Download owner's manuals from the engine manufacturer's Web site for exact air filter maintenance/replacement schedules and procedures.
Avoid the out-of sight, out-of-mind attitude. Too often, equipment in need of service or repair gets put into storage. Even with the best intentions, since it has been stored where it is not visible, the urgency to address a service issue, especially a "hidden" one like a dirty, clogged air filter, fades away and can easily be forgotten by the start of the next working season. The best solution is to go ahead and clean or replace air filters along with any other required maintenance before the equipment goes into storage.