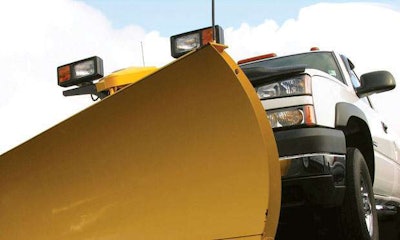 Most of you are in the thick of your busy summer season, and mower and hand-held equipment maintenance and repairs are keeping you occupied. But for landscapers who spend the "off-season" providing snow removal services, it's never too late to begin preparing your trucks and equipment.
"Northern landscapers have always looked to snow and ice removal as a revenue source during the winter," says Mike Stevens, vice president of sales and marketing, Sno-Way International. "September is a good month to review fleet vehicle readiness, instruct new plow operators and do repairs on older equipment."
"For the most part, switching from landscaping to a snow removal mindset happens relatively quickly, depending on the season," says Patrick Dietz, product manager, Western Products. "But sometimes snow comes early and the two seasons can be consecutive; it's best to have all your equipment ready to go before then."
Fleet vehicle maintenance
According to Gary Dwinal, product manager, Fisher Engineering, fleet vehicles should be checked to ensure that the cooling system is intact and contains the proper levels of antifreeze. He also recommends installing tires made for snowy and icy driving conditions. "Snow plowing can be tough on the transmission, so be sure to service the transmission and add a transmission cooler if the truck is not already equipped with one," Dwinal adds.
General maintenance on your trucks should include reviewing the suspension, wheels, axles, equipment attachment points, battery and alternator. Dietz says the following components should receive the most attention:
Electrical system: Recharge or replace the battery, check the battery cable, run a diagnostic check on the alternator and ensure that the plow harness installed on the truck is greased and there is no corrosion.
Tires: Make sure tires have the proper tread depth and pressure for optimal braking and traction in snowy and icy conditions.
Lights and windshield wipers: Some snowplows have deflectors, but follow OEM recommendations to ensure wipers and lights are working as they should.
You may not realize it, but your air conditioner has a big effect on whether your truck's defroster is working at peak efficiency. "If there's one thing you can do to improve the performance of your defroster and increase your margin of safety, it's to have the air conditioner inspected at the start of the heating season," advises Gary Hansen, vice president, Red Dot.
Hooking up the plow
Regardless of whether you're using a straight plow, V-plow or a scoop, there are similar maintenance checkpoints. You want to ensure that you and your plow can be seen on cold, wintry mornings.
You should always consult the OEM manual for maintenance guidelines, but here are some manufacturer-recommended checkpoints for snow plows.
Hydraulic fluid: Be sure to drain the hydraulic fluid and refill, as well as disassemble the hydraulic rams to clean them. Cycle-through the plow to make sure it is operating properly.
Electrical connections: Clean and grease any points that move and check welds to make sure nothing is cracked or broken.
Lights: Check for proper operation and alignment. "This is done most effectively once attached to the truck," Dietz says. "It isn't uncommon for lights to become misaligned." Most OEMs offer instructions to help you ensure that they are orientated correctly.
Check for damage or wear on hoses, all moving parts and hinges, cutting edges, blade guides and deflectors.
Choosing a plow
"Thirty or 40 years ago, there were only truck-mounted snowplows," Stevens says. "Over the years, trucks have changed and landscapers are using skid steers and wheel loaders for snow removal." These changes have influenced what types of plows are purchased today.
V-plow: Known as the most versatile snow plow, V-Plow blades have independent-moving wings that can be used in a straight, scoop or wing-back position. According to Sno-Way International, this allows for maximum flexibility to complete any type of job and move snow more efficiently in smaller spaces and parking lots. "The advantage is twofold. Onsite there might be a really high snow bank to break through, and a V-Plow makes this easier," Dwinal explains. "It will also work just like a straight plow, and if you have areas you need to clean up, you can put both wings forward in a scoop configuration." This is the best option for landscapers that have varied terrain contracts.
Straight plow: Original snow plow designs were straight with no optional settings and these blades are still popular today. Proponents of this type say straight plows clean down to the ground and deflect snow better than other plows. Smaller straight plows are used by light commercial contractors and are best for wide-open spaces. They are a great option for first-time snow removal operations.
While V-plows are generally the pricier option, they do offer the most flexibility and efficiency. According to Dietz, landscapers often replace plows when they replace their trucks, or sometimes a couple of years before that. The average wear for a snow plow is three to seven years, depending on the conditions it is subjected to.