As part of Total Landscape Care's look back on 2020, here are the top 10 stories during the month of May.
10. Recharging your sales and marketing efforts during COVID-19
In a recent webinar hosted by Kevin Kehoe, co-founder of Aspire Software Company, the topic of recharging your landscaping company's sales and marketing efforts was posed.
According to Marty Grunder, president and CEO of Grunder Landscaping Company, landscaping company owners can either look at the current COVID-19 pandemic as a problem or an opportunity when it comes to sales and marketing.
Click here to read the full story.
9. How to: Utilizing video to sell landscaping services during COVID-19
Regardless of the ongoing COVID-19 (coronavirus) pandemic, landscaping companies still need to make sales.
One of the biggest sales-based issues landscapers are facing during these uncertain times is how to sell projects without actually meeting with customers face to face.
Click here to read the full story.
8. LMN introduces VIP program for select landscape business owners looking to scale efficiently
LMN Inc., a provider of B2B landscape business management software, has launched its LMN VIP program to help hand-picked landscape business owners document and share their experience of growing and scaling their business with LMN.
Kicking off the first run of the VIP program, LMN started with seven VIPs including Caleb and Brittany Auman of Auman Landscaping LLC, Shawn and Savanaha Spencer of Spencer Lawn Care, Josh Jones of Mass Hardscapes, Blake Albertson of B&B Lawn Care, Richey and Jessica Plemons of Plemons Lawn & Landscape, Stanley Genadek of Dirt Monkey University and Andrew Wilson of Cut and Clean LLC.
Click here to read the full story.
7. Inside operations: MetroGreenscape shares how it's prepared for economic downturns
Darin Brockelbank, president of MetroGreenscape based in Charlotte, North Carolina, got into the green industry at a young age like many others, but it wasn't a love for landscaping that attracted him. Rather, it was his entrepreneurial spirit.
"I was a poor kid and I had to do something to make money to have extra things," Brockelbank says. "So, at 10 years old, I started to rake leaves and at 12 years old, I started to have grass cutting accounts. By 14, I went and launched the business officially."
Click here to read the full story.
6. Suppliers sound off: Business ramps up as more landscapers go back to work
With landscapers getting back out in the field, the demand for supplies should continue to rise over the next few months.
Beth Weiland with Liberty Landscape Supply says they have one location in Fernandina Beach and two in Jacksonville, Florida, and while foot traffic might have slowed a bit due to COVID-19, that doesn't mean business stopped.
Carl Atwell, president and owner of Gempler's, says they've been able to continue operations due to the customer base they support. While their brick and mortar location is in Wisconsin, Gempler's is predominately an online and catalog-based business, which means they are still able to sell and send supplies nationwide.
Click here to read the full story.
5. Lawn care: The dirt on fine fescue grass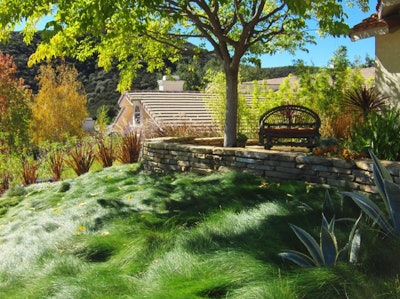 There are a number of species and varieties of fine fescue grass that may differ in color, leaf texture, disease resistance, shade tolerance and drought tolerance.
There are four main species that are known as fine fescues due to their narrow leaf blades, but each has different preferences.
Click here to read the full story.
4. Why it's worth it: Landscape architects talk on the importance of this field
With April dedicated to World Landscape Architecture Month (WLAM), landscape architects across the globe took to the internet to share their stories and photos of their favorite green spaces.
Students of landscape architecture also took this time to show their support for the industry, as well as showcase why they love being part of this field. While interest in this field has grown over the years, it's true that many middle, high school and undergraduate students are still unaware that this career option is even available by the time they get to college.
Click here to read the full story.
3. Making the most of a small garden space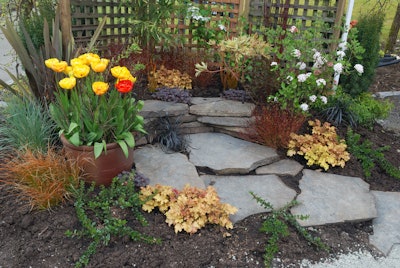 As a landscaper, one of the most difficult spaces to navigate is a small garden. Often, homeowners have completely written off a small garden space, so trying to come up with a design and layout to change their minds can seem like a daunting task. Thankfully, there are some great ideas when it comes to making the most of a small garden, meaning you can turn even the smallest of spaces into a wonderful garden paradise with compact and fitted features to enhance the garden.
Click here to read the full story.
2. Women in landscaping: Finding your place in the green industry
While the green industry has continued to grow and change throughout the years, experts agree that there's still more that could be done to make the field appealing to women and minorities.
Total Landscape Care talked with Sierra Saint, co-owner of One Love Lawn in Grove City, Ohio, and Dee Larson, owner of LandscapeGal in Northfield, Minnesota, to hear their stories of coming up in this field and the challenges they faced as green industry women.
Click here to read the full story.
1. The history of the stand-on mower
Bill Wright had always been a tinkerer growing up, and he had made a number of contributions to the lawn care industry before becoming the father of the stand-on mower as we know it.
He started out mowing lawns at nine years old and continued mowing on the side as he worked as a car mechanic. In his free time, he worked on improving various commercial mowers.