As the year comes to a close, Total Landscape Care has compiled a list of the top 10 stories of each month of the year. Take a look at what stories were trending on our site in March 2020.
10. Sound off: How landscaping companies are dealing with the coronavirus
With the outbreak of the coronavirus (COVID-19) across the nation, many businesses have been forced to shut their doors due to the government deeming them non-essential during this time.
However, numerous landscaping companies would not take this ruling lying down, and over the past few weeks, the National Association of Landscape Professionals (NALP) continued to work with the Department of Homeland Security (DHS) on behalf of green industry companies.
Click here to read the full story.
9. Pain points: Digging into the issues landscapers are facing during the coronavirus
With numerous businesses temporarily shutting their doors due to the coronavirus (COVID-19), TLC reached out to landscapers nationwide to find out who has shut their doors and who is still working.
Yesterday, we talked to Thomas O'Halloran, president of T-C-O Landscapes in Eau Claire, Wisconsin, and Greg Taylor, owner of Great Lakes Grounds Management, LLC in Lorain, Ohio, about why they chose to remain open during this time.
Click here to read the full story.
8. NALP releases nationwide coronavirus updates for landscapers
The National Association of Landscape Professionals (NALP) released an update regarding current "lockdowns" or "shelter in place" orders that have been issued by State and Local Governments.
"For the landscape industry, it is extremely important to understand our ability to continue to work in these various states and localities," NALP says in a press release.
The landscape industry includes lawn care, landscape maintenance, tree care, water management, design/build and irrigation, and it is a $98 billion-dollar industry that employs more than 1 million people in the U.S.
Click here to read the full story.
7. Necessary changes: Effective hiring and interviewing practices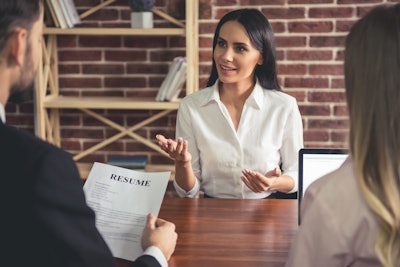 Finding qualified employees is always a challenge for those of us in the green industry, but when you do happen to find interested candidates, what steps can you then take to ensure they stay with you and bring in more help?
During the National Association of Landscape Professionals' (NALP) recent Workforce Summit, representatives from green industry companies across the nation gathered to discuss what we need to do in our businesses to be able to bring in and retain employees.
Click here to read the full story.
6. What temporary landscaping workers need to know for tax season
Landscaping companies can often fall into a gray area when it comes to hiring and classifying temporary workers. Short-term hires like lawnmowers, gardeners and landscape architects can share characteristics of both employees and independent contractors, which can make it confusing for both the hiring company and the worker alike. After all, being hired on a temporary basis does not automatically equate to being lawfully declared an independent contractor.
In the wake of laws like Assembly Bill 5 in California, which was intended to reclassify several million independent contractors into employees, and similar laws being proposed in other states, it's become especially important to stay on top of the latest developments in tax and legal matters affecting gig workers.
Click here to read the full story.
5. Women in the green industry share their experiences as company leaders
March 8th marked International Women's Day and the whole month is dedicated to women's history, so we decided to talk to some of the women-owned landscaping companies that are carving out their place in the male-dominated green industry.
According to LawnStarter, male-owned businesses make up 82.8 percent of all landscaping businesses, but this isn't stopping women like Ramona Mullins, co-owner of Mullins Lawn Enforcement and Kristy Boase, co-owner of MIL-SPEC Lawn Care. Both Mullins and Boase are Jobber customers as well.
Click here to read the full story.
4. Kubota unveils its first mini skid steer, the SCL1000
While admitting it has taken its time to enter the market, compact equipment giant Kubota unveiled its first model in the mini skid steer/compact utility loader segment, the 1,000-pound rated operating capacity SCL1000, Wednesday at ConExpo 2020. The machine will be available in the second half of the year.
Kubota says it aimed the 1,000-pound rated operating capacity machine at one of the faster growing size segments in the exploding CUL market.
"Our customers and dealers were telling us they needed a bit bigger machine than the smaller units that are out there," says Tim Boulds, Kubota construction equipment product operations manager. "We thought this would be a good entry point."
Click here to read the full story.
3. Ways to express employee appreciation throughout the year
Today is Employee Appreciation Day but you don't have to wait for the first Friday in March to let your staff know that you appreciate what they do every day.
While your customers are providing the cash flow needed to keep the lights on, your employees are the ones who are out there interacting with them on daily basis and continuing to provide the quality work that keeps clients coming back.
Click here to read the full story.
2. Finding and keeping employees in the midst of a labor crisis
At this year's Workforce Summit hosted by the National Association of Landscape Professionals (NALP), green industry professionals from across the nation gathered to discuss methods they could implement to help solve the ongoing labor shortage crisis.
During the event, author and workforce development authority Eric Chester shared his thoughts on how companies can both find and keep employees while in the midst of the worst labor market he's seen.
Click here to read the full story.
1. Chain saw checkup: In the know with chain saw maintenance
Chain saws are a staple machine for most landscaping crews, which means it's vital that they always are properly cleaned and maintained before hitting the jobsite.
Chain saw experts have weighed in on proper cleaning and maintenance tips for these machines, as well as a detailed daily, weekly and monthly schedule all chain saw users should follow to ensure saws are performing at the top of their game.