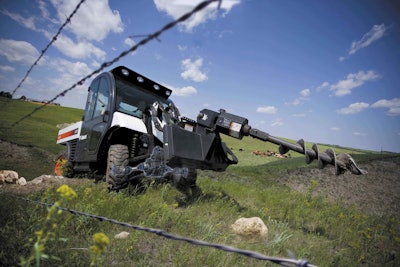 Bobcat Company has moved one step closer in becoming Tier 4 compliant.
The company has introduced the Tier-4 compliant 5600 and 5610 Toolcat utility work machines that incorporate a non-diesel particulate filter (DPF) engine solution.
The 61-horsepower machines also feature a traction control system designed to provide better mobility.
The machines feature an illuminated rocker switched on the dash, which turns the traction control system on or off as needed.
The traction control feature is integrated with the machines' electronics, which allows it to sense speed differentials that typically occur when wheels experience traction loss due to soft ground, snow and ice, or terrain that causes a wheel to lose contact with the ground.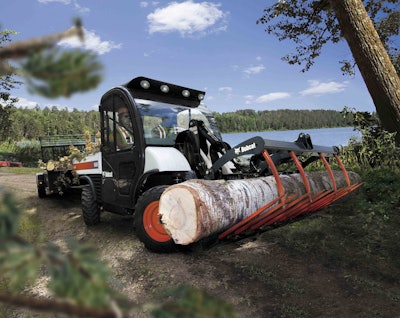 The system also senses when wheels encounter obstructions, changes in grade and higher traction levels. Once engaged, as an operator holds a constant low-range speed, the system transfers torque to the wheels with the highest traction.
The traction system also has the ability to function like a locking differential while retaining its limited slip differentials. It also works in partnership with the Bobcat utility work machines' four-wheel independent suspension system.
The Tier 4 Bobcat non-DPF solution was achieved by designing an ultra-low particulate combustion (ULPC) engine. The ULPC is accomplished through a specially designed engine combustion chamber that reduces the amounts of particulate matter created during combustion. Therefore, Tier 4 emissions compliance can be achieved without using a DPF.
The Toolcats have 12 percent more torque, which is produced over a range of engine rpm.
Additionally, the machines feature a machine protection system that monitors, manages and shuts down the engine if needed. This system monitors engine coolant and oil temperatures and will manage engine systems to reduce the potential of these fluids reaching a point where the machine has to be shut down.
The 5600 and 5610 include cold weather protection, which means any time the engine temperature is at or below 14 degrees Fahrenheit (-10 degrees Celsius), the loader will temporarily limit the maximum engine speed (rpm) to prevent premature component wear or failure. Engine idle speed is also raised slightly to help the engine reach its operating temperature faster. As soon as the engine warms up to a predetermined temperature, the protection mechanism will deactivate.
The 5610 allows operators to use front-mounted attachments, as well as PTO and rear remote hydraulics to power Category 1, three-point hitch implements or attachments.
The 5600 can haul 2,000 pounds of tools, materials and supplies in the 17-cubic-foot cargo box. Towing capacity for both machines is 4,000 pounds, enabling the transport of trailered supplies and light equipment up to a speed of 17 mph.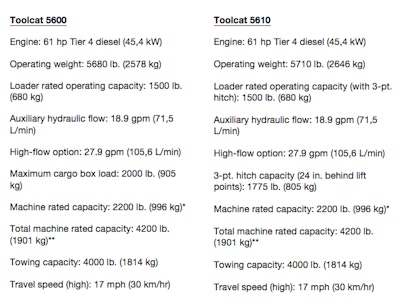 ** Total machine rated capacity: combined weight of load on lift arm, cargo box load, operator, passenger and tow weight if equipped with a hitch.
* Machine rated capacity: combined weight of load on lift arm, cargo box load, operator and passenger.