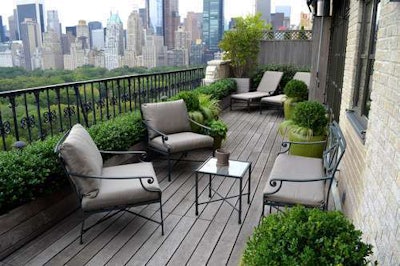 If landscapers are working in large cities where space is limited, there are a variety of steps to take to still give a client that perfect backyard.
Houzz Contributor to The Huffington Post Mitchell Parker put together 16 ways on how to get more from a small backyard.
Here are just a few:
1. Implement a smart lighting design. Small landscapes can benefit from a variety of different lighting options like lighting up plants, using pendants around a dining area, and more.
2. Complement the interior. By using the same colors that the client has indoors, the outdoor area will feel more like a living room.
3. Pay attention to scale. Don't fit a 10-person dining table in a small space. Look at extendable tables or built-ins. Also, don't plant a tree that is going to grow too tall. Small native plants can help keep the area open.
4. Avoid clutter. By using clean lines, the area will feel less tight. Avoid bulky furniture and maintain plants regularly.
RELATED: Tips for Working with Small-Space Landscapes
5. Consider the view. If the client is dealing with an unpleasant view, use trellises. They let light and wind through without having to use an actual fence.
6. Keep maintenance down. Small spaces can be easy to clean so look into options like artificial turf. Also native plants and grasses minimize water use.
7. Give it personality. If the space has a lot of character, clients won't worry about the size of the space. By adding primary colors and interesting furniture, the space will stand out.
8. Create a focal point. By adding a large planter or a water feature, clients will forget how small the space is. For instance, a single large planter in the center will draw the eye to it and push the walls away naturally.