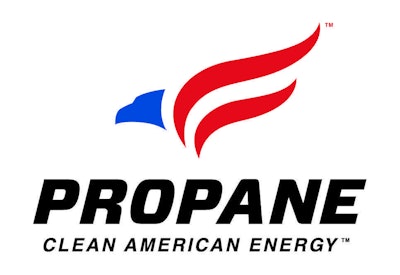 The Propane Education & Research Council (PERC) bent lots of ears at the green industry's largest tradeshow last week, telling professional landscape contractors at GIE+EXPO how propane-fueled equipment can lower their costs of doing business.
The trade group's booth at the Kentucky Exposition Center in Louisville featured a wide variety of propane-powered equipment.
"Propane equipment is helping contractors increase productivity, cut fuel costs and reduce spills and pilferage, which translates into a lower total cost of operation compared with traditional fuels," said Jeremy Wishart, deputy director of business development for PERC. "These benefits of propane are hiding in plain sight and plenty of commercial landscapers are already taking advantage of them.
"But some commercial landscapers still haven't stopped to really consider just how much propane fuel can improve the bottom line of a business."
In addition to the PERC officials staffing the booth to answer questions from contractors about operating with propane equipment, the council also had propane retailers on hand to discuss fuel delivery and infrastructure.
The following propane equipment was on display at PERC's booth:
Isuzu NPR-HD truck with stake body.
Exmark 60-inch Lazer Z propane mower with a three-bushel bagger.
Exmark 60-inch Vantage propane stand-on mower.
Gravely 52-inch Pro-Stance propane stand-on mower.
Walker B25p mower.
Kohler EFI 747cc and 824cc propane engines.
Engines from Briggs & Stratton, Kawasaki, and Subaru converted to propane with EnviroGard propane conversion kits.
A Propane Power Systems propane conversion Briggs & Stratton Vanguard engine.
For more information on propane and propane equipment offerings in the commercial turf industry, visit www.propane.com/commercial-landscape.