ASV LLC, a manufacturer of compact track loaders and skid steers, recently introduced the Posi-Track RT-120 "Forestry" model, which the company says is the largest and most powerful compact track loader in the industry.
The large-frame machine features more power and less ground disturbance than any other machine in its class, according to ASV.
Maximum power and torque, along with cooling capacity, make the RT-120F capable of using large attachments for long periods of time without bogging down or overheating, the company says.
The machine makes mulching, brush cutting and highway and utility work faster and easier, ASV says, and boasts maximum efficiency hydraulics along with the high-capacity cooling system.
The RT-120F is at home on all surfaces, from mud and brush to ice and snow, the manufacturer says, and boasts of industry-leading serviceability, ground clearance, ground pressure, traction and track life.
For more information and detailed specs, visit this page on ASV's website.
Fromwinch Industries offers 12.5k-pound winch
Florida-based Fromwinch Industries – aka "FROM" (Full Range of Motion) – is now offering a 12,500-pound winch with a six-horsepower, high-speed motor.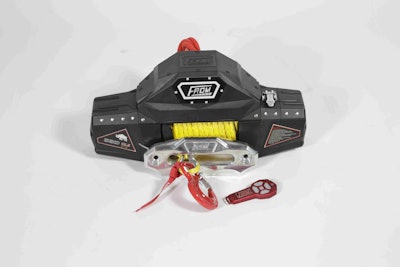 The Rhino 12.5S is an IP68 electric winch that incorporates an LED screen on the control box and includes features such as motor temperature monitoring and smartphone app compatibility.
An all-in-one, rechargeable wireless remote features remote clutch control (free spool and engaged). Double-lip oil seals prevent water and mud intrusion. Other features include a patented automatic mechanical braking system and hardened 3-stage planetary gear train.
Fromwinch Industries, based in Tallahassee, also owns Tungsten 4×4, which markets winches and other off-road recovery equipment.