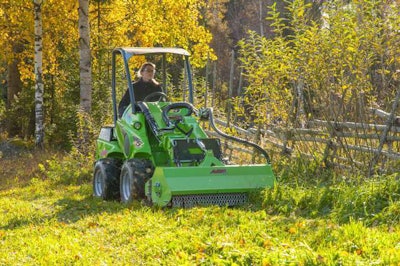 Avant Tecno USA will debut its fully electric, battery-powered articulated loaders at this year's GIE+EXPO 2017 in Louisville, Kentucky.
The company says that the Avant e5 is the first of its kind in the family of Avant series loaders for the North American market. Since it is fully electric and battery-powered, the compact Avant e5 is designed for indoor and outdoor use. The company says it is especially suitable for indoor use where ventilation is limited or non-existent, and there are strict noise requirements. With no emissions, minimal noise level and low operating cost, the company says the e5 comes with an in-machine charging unit and fits all standard Avant attachments.
Equipped with a 240Ah lead acid battery, the e5 is also equipped with two electric motors–a 6kW motor for driving the machine and a 2kW motor for loader boom operation and auxiliary hydraulics. It also features an 8 gal/min auxiliary hydraulics flow, which allows working with various Avant attachments such as various grapples and hydraulic hammer.
Included with the e5 is an onboard, in-machine charging unit, enabling charging from any 230V/16A power outlet, which the company says makes recharging the loader easy. It is also possible to work while it's charging.
To charge the battery to 100 percent, the company says it takes approximately five hours, but it can reach 80 percent battery capacity within three hours. The e5 operates between one and four hours, depending upon the type of work being performed.
Additionally, Avant's 200, 400, 500, 600 and 700 series models will be shown at GIE, along with attachments. The company says the 200 series, which was debuted in 2016, is ideal for homeowners and property maintenance, landscaping and ground care professionals who have limited space and need lightweight machines.
The company says that the five series models offer the same compact, multi-purpose, articulated solutions for many types of projects during the seasons. Avant says these machines feature multiple cab options, provide excellent lift to weight ratio, offer low maintenance and operating costs and are turf-friendly for projects in tree removal, landscaping, snow removal, nurseries, farming, demolition, construction and municipalities.
Kellogg Garden Products and Village Nurseries partner for new YouTube series
Village Nurseries Wholesale is launching a new, multi-episode series of videos on its YouTube channel.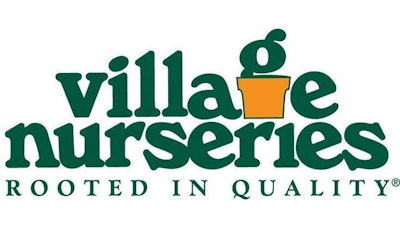 The new series is produced in partnership with Kellogg Garden Products (KGP) and is titled "Building Life in the Soil: Kellogg Garden Products and Village Nurseries."
The series will feature Gisele Schoniger, organic gardening educator for KGP, and Nicholas Staddon, Village Nurseries' plantsman, and it will educate viewers about the best Kellogg soils and mulch to use in their landscapes.
The companies say the series will also showcase some of Village Nurseries' exclusive and patented plants. The first video is titled "Two Multitasker Planting Mixes for the Landscape & Garden," and is available here. This video demonstrates Garden & Bloome Organics Harvest Supreme and Kellogg Garden Organics Gromulch.
The companies say that future videos in the series will cover topics such as filling and revitalizing raised beds, building soil for native plants in low-water landscapes, feeding acid-loving plants, cactus, citrus and succulents, selecting the right mulch for the landscape, breaking through tough soils and planting containers.
"This new video series represents a continuation of our ongoing commitment to educating landscape architects and designers about the latest trends and issues in the industry," said David House, president and CEO of Village Nurseries. "We are even more pleased that we could partner with Kellogg, one of the most respected companies in the entire landscape community."
For the past 17 years, Schoniger has served as the organic gardening educator for Kellogg Garden Products, and the company says she has provided ideas and solutions for building healthy soils and successful gardens.
Staddon spent more than 25 years as the director of new plants and as a national spokesperson for Monrovia Growers before joining Village Nurseries.
Morbark awarded second NJPA contract

Morbark was recently award with a four-year contract by the National Joint Power Alliance (NJPA). The contract will provide NJPA members with grounds maintenance equipment, and covers related attachments, services and accessories. The contract officially began on Aug. 18.
"We are extremely proud to hold this new contract and the partnership we have been able to cultivate with the NJPA since being awarded our first contract in 2015," said Kevin Cotter, governmental sales manager. "This relationship allows us to supply NJPA member municipalities and non-profit organizations with the quality Morbark equipment they need at very competitive prices."
The contract includes the complete line of Beever brush clippers, horizontal and tub grinders, whole tree chippers, stump grinders, Boxer mini-skid steers, attachments and dedicated trenchers. Morbark says its network of approximately 300 North American dealer and distributor locations, as well as nearly 500 Morbark employees, work diligently to provide exceptional customer service and after-the-sale support.
"After examining the proposals, the NJPA evaluation team received in response to our solicitation, it was evident that Morbark had all the qualities we were searching for," said Scott Carr, NJPA contract manager for Morbark's award. "Their excellent products, sizeable dealer network, comprehensive marketing plan and dedication will serve our members well. We're excited to continue this mutually beneficial partnership with one of the world's most widely respected equipment manufacturers."