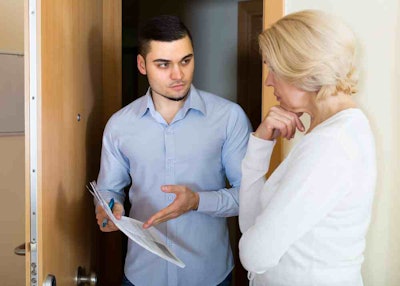 You've worked day in and day out to help your customers, establish lasting relationships with them and keep payments coming in on time, but there are still some customers who will not pay for the services you provide. Lingering debt from clients is a major frustration for landscape business owners.
Even when you've taken every measure possible to collect a payment, sometimes they still come in late or not at all. While this kind of situation is stressful and can try your patience, have you ever wondered if you and your company are following the laws of payment collecting?
Many are not aware that there are specific guidelines to follow when it comes to collecting payments, but The Fair Debt Collection Practices Act (FDCPA) clearly lays out specific dos and don'ts on the subject.
Granted, the FDCPA was designed primarily for debt collectors, but the rules can still apply to businesses needing to collect payments. Following these rules can also help your company avoid getting tangled up in legal matters regarding your collection efforts.
Verification
When it comes to collecting payments, don't ever assume that the customer is going to take you at your word. When approaching clients about their overdue payments, bring the proper documentation with you, such as photos, receipts, itemized copies of bills, and the like.
Customers deserve to be able to see that their debt is validated, so be prepared to present these items to them respectfully and clearly. If you don't come prepared with the proper paperwork, or, worse than that, don't have actual copies of such evidence then your case will not be as strong. This could result in you not receiving your rightful payment.
Phone calls
According to the FDCPA, phone calls are only allowed between the hours of 8 a.m. and 9 p.m. in the time zone where the customer is located. Along with that initial rule, you also cannot call a customer if they have indicated that a certain time is inconvenient for them.
For example, if you call your customer and they tell you that they work nights and therefore sleep during the day, you can't call them at that time. Or, if your customer says that a certain time of the day isn't good to call because they will have children napping then, you can't call them back at that time again.
Calling customers while they are at work, after you've been notified they are working in that time period, is also off-limits. The FDCPA says that causing a phone to ring or engaging a person in a phone conversation repeatedly with the intent to harass, annoy or abuse the person is strictly prohibited.
Talking to someone other than the customer
If the matter escalates and your customer indicates they are being represented by an attorney, you can no longer interact with the customer; you must deal directly with their lawyer.
It would also be wise to refrain from talking to or contacting family members of the customer, even if it's a spouse. In less severe circumstances, discussing the matter with a spouse might not be seen as an egregious offense, but if the situation has already amplified to the point of needing legal representation, it's best to play it safe.
Discussing a legal situation with anyone else, such as a friend or employer, can also land you in hot water legally.
Harassment
Dealing with collection situations can put everyone involved on edge, so always remember to keep your cool. Losing your temper, saying rude or offensive language, cursing or threatening the customer will only increase the severity of the situation.
All of the aforementioned actions, as well as threatening to call the police or threatening to damage property, are all forms of harassment. Keeping a level head and taking control of the situation will result in a more pleasant interaction, or at the very least it will keep you from getting yourself deeper into a hole.
When it comes to making claims such as wanting to sue a customer or saying that you will turn them over to a collections agency, don't say something that you aren't willing to follow through on.
Collecting fees and interest
When adding on additional fees and interest, be careful. When it comes to these charges, it's best to have a contract that spells out all charges the customer can look over, sign and possibly have a copy of.
According to the FDCPA, it's illegal to turn additional fees over to a collection agency to collect if it's not allowed by the state law or signed off on. It also cannot be written out on the bottom of an invoice as an afterthought.
Train your staff
The most important thing you as an employer can do is to educate your staff on what's allowed and what's not. Don't wait until you are facing the situation head on; go ahead and educate your employees on proper collection techniques now so they are ready and able to handle it if it rears its ugly head. Be sure to emphasize the importance of communicating with customers who either are late on payments or who refuse to pay at all. Just the simple act of talking it out can sometimes negate any ill will and cause the customers to react differently.
For more information and further details on the FDCPA's recommendations for handling these kinds of situations, click here.