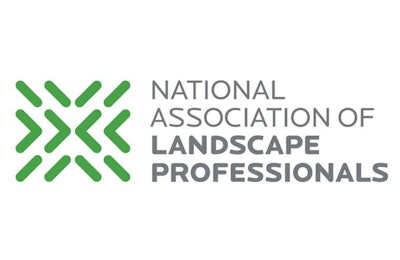 The National Association of Landscape Professionals (NALP) announced it is launching a new 10-Hour OSHA Construction Course for the landscape industry through its partnership with the OSHA Alliance.
The 10-Hour OSHA Construction Course has served as the industry standard safety training for those working on commercial sites. For the first time, the course will now feature landscape industry-specific topics.
Owners, supervisors, project managers and field employees will be provided in-depth information on landscape industry related safety topics.
The course will cover basic training on the recognition, avoidance, abatement, and prevention of workplace hazards as well as educate attendees on workers' rights, employer responsibilities and filing a complaint.
"We are pleased to have created this industry-specific 10-hour course that will provide comprehensive job site safety training that would be beneficial to all landscape industry companies," said Sabeena Hickman, NALP's CEO.
The courses are taught by OSHA authorized trainers and attendees will receive a wallet card and certification upon completion.
NALP Safety Advisor Sam Steel will be conducting the first course at the NALP office in Fairfax, Virginia, on Feb. 7-8. The courses are open to everyone in the industry. The fee for NALP members is $199 and $299 for non-members.
The next course will be presented at Chattahoochee Technical College in Acworth, Georgia, on Feb. 22-23. Click here to register for the course. Additional dates and locations of future OSHA courses will also be posted on the website.
NALP says that companies can also have the course presented at their location for up to 30 participants. Contact [email protected] or call the NALP office at 800-395-2522 for pricing.
Ewing Irrigation & Landscape Supply opens two new facilities in Florida
The family-owned wholesale distributor of green industry products and services recently opened two new Florida locations in order to provide contractors with better service in more convenient locations.
Opened in early January, Ewing St. Petersburg is one of the thirteen full-service Ewing locations in the state now and the third location in the Tampa area, after Ewing Clearwater and Ewing Wesley. Ewing says this third facility was added to help contractors in Pinellas County avoid traffic delays.
"The opening of Ewing St. Petersburg allows us to serve all of Pinellas County," said Dwight Forde, branch manager of Ewing St. Petersburg. "Our Clearwater location serves north Pinellas County, while this new location will serve south Pinellas County. We're excited to be where our customers are and help them continue growing their businesses by providing outstanding customer service and giving them access to all the products they need."
The second new location is about 160 miles south of the St. Petersburg store. Ewing Naples opened later in January. The store's manager, Tim Haskins, transferred from the Ewing Fort Meyers store where he was the branch manager.
"Having called Naples home for 47 years, I look forward to introducing the Ewing family culture to our local customers," Haskins said. "The Naples location will benefit customers with multiple product offerings, sustainability opportunities, business growth and ultimately better flexibility in their day-to-day operations. It's a great addition to our locations in Florida, because it shows our dedication to contractors in this state. We're committed to growing with our customers here in Florida."
Ditch Witch adds parts lookup online tool
Ditch Witch says it has released an advanced version of its industry-first, web-based tool that helps customers reduce downtime when searching for a service part they need.
The Ditch Witch Parts Lookup allows customers to access detailed parts information and establishes a direct line of communication with dealers for part verification and pick-list creation.
"The new Parts Lookup automatically connects customers to their preferred dealer to easily communicate service parts requests," said Shan Kirtley, Ditch Witch vice president of sales. "This simplifies the request process and can help customers get immediate access to service parts information anytime anywhere and get back up and running faster."
Users can find service parts with the serial number, part name, equipment model or keywords. The tool also allows customers to add equipment in their fleet by serial number for easy reference to manuals, parts diagrams and future service parts needs.
Customers can access this tool along with the other Ditch Witch customer productivity tools through their MyDitchWitch user account.
Willow Creek Paving Stones adds Slatestone Grande paving stones
Supplier and manufacturer of paving stones, Willow Creek Paving Stones (WCPS) has introduced Slatestone Grande to its line of durable and attractive paving stones.
Ideal for projects going for a contemporary look, Slatestone Grande pavers are available in 9" by 18" and 14" by 18" and are 7 cm thick. The pavers are available in four colors: Crème, Bleu, Patina and Mocha.
The pavers can be used for patios, courtyards, walkways and other hardscaping projects. The Slatestone Grande pavers work well with other paving stones in the Slatestone family, according to WCPS.
"The large surface area of Slatestone Grande makes it easy to install for professionals and homeowners, too," said Burt Plett, WCPS manager.
Pavers made by WCPS are designed to withstand the freeze-thaw cycles of the Midwestern climate. For more information, or to find a dealer near you, click here.
Pine Hall Brick Company adds two new products
Pine Hall Brick Company, America's largest manufacturer of genuine clay pavers, has two new products it is introducing.
The first is the Plymouth Tumbled Modular Paver. According to Pine Hall, it is a true tumbled paver and 7-5/8" by 3-5/8" by 2-1/4" thickness. It can be laid both with mortar or with sand in a running bond or chevron pattern. The paver is also available in a ½" PaverTile, which is perfect for applications that can't accommodate a thicker paver.
PaverTiles are an entirely new category that converts clay pavers into a tile surface. They can be used for indoor use like kitchens but are also suitable for outdoor applications that can't accommodate a thicker paver.
All of Pine Hall Brick's pavers, which come in more than 50 colors, are available in ½" PaverTiles.
For more information, call (800) 334-8689 or visit their website.