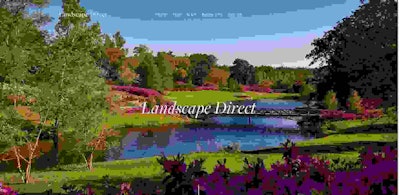 Almost six months ago, Landscape Direct, an online review-based platform, was created.
"Our main goal and focus at Landscape Direct is to, one, provide a highly valuable platform that helps our industry pros expand their reach and grow their clientele basis, and make them more accessible to all looking for services," said owner and CEO Andrew Fears. "And two, to provide an easy and proficient platform for users to find their desired professionals."
Fears said the platform connects residential and commercial property owners with local landscape and outdoor professionals in surrounding areas, and it only advertises professionals in the outdoor and landscaping industry.
Fears says the main goal for Landscape Direct now is to become the sole platform that connects highly qualified and skilled landscape architects/designers, landscape contractors, wholesale/retail plant nurseries, pool construction, deck builders, stone masons, garden centers, concrete specialists and grading excavation companies to property owners all across America.
Case expands dealer territory in North America
Case Construction Equipment recently announced several dealer territory expansions in North America. The company says existing dealers have made significant developments in Connecticut, Indiana, Florida, Michigan and Mississippi, while a new Case dealer has been activated in Northern Michigan.

Lee Tractor Co., Inc. has expanded its Mississippi coverage with a new location in Pearl, Mississippi, to serve the Jackson market.
McCann Industries has expanded to cover Northwest Indiana and Grand Rapids, Michigan, markets with two new locations in Mishawaka, Indiana, and Dorr, Michigan.
Monroe Tractor has expanded its New England coverage with a new branch location in South Windsor, Connecticut.
Trekker Tractor continued its expansion in Florida with a new branch in Jacksonville.
Ina Store, Inc. is a new Case dealer that will cover Northern Michigan from Saginaw to Traverse City with a central location in Tustin, Florida.
"The continued evolution of our dealer footprint in North America is focused entirely on providing improved and expanded services in markets that are important to our construction equipment business," says Michel Marchand, vice president—North America, Case Construction Equipment. "These developments represent our commitment to customers as we further strengthen our dealer network to meet the needs of the industries that we serve."
Douglas Dynamics announces planned CEO transition
Douglas Dynamics, Inc., recently announced its planned CEO transition.
The company says James L. Janik (Jim) will transition from his role as president and CEO, effective Dec. 31, to lead the board of directors as executive chairman.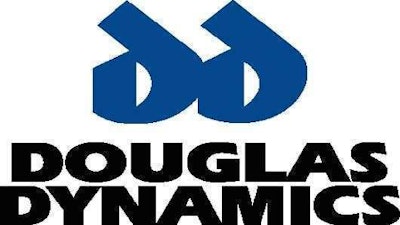 The company adds that the board of directors appointed current COO Robert McCormick (Bob) to serve as the successor to Janik as president and CEO, with his appointment going into effect on Jan. 1, 2019.
During Janik's 26-year career with Douglas Dynamics, the company says it has grown from a privately held company with approximately 250 employees and two manufacturing facilities to an NYSE-listed public company with approximately 1,700 employees. The company says it now has more than 20 facilities focused on manufacturing and servicing customers.
Under Janik's leadership, the company says it created its proprietary lean manufacturing system known as the Douglas Dynamics Management System (DDMS).
Through the use of DDMS principles, the company says it was able to utilize systematic problem solving and effective resource management to continuously improve and produce the highest-quality products at industry-leading levels of service and delivery.
"During my 26 years at Douglas Dynamics, the company and industry have experienced dramatic changes, and I am proud of my contributions and everything we have accomplished together," Janik said. "The strength of this company is driven by all its employees and the culture of teamwork and continuous improvement we have cultivated over the years. Given Bob's achievements and experience, as well as the depth of the overall management team, I firmly believe this is the perfect time for me to start to transition the CEO role."
"I am honored to have the opportunity to lead Douglas Dynamics and build upon our achievements," McCormick said. "We have a fantastic team in place, and we will strive to realize our considerable potential. Jim and I have forged a strong and effective working partnership over the past 14 years, which will continue going forward. We all look forward to continuing to benefit from Jim's knowledge and expertise."
NALP signs president's Pledge to America's workers
Through its Industry Growth Initiative (IGI), the National Association of Landscape Professionals (NALP) says it has been working to attract employees to the landscape industry, as they say there will be an estimated 1.5 million positions that need to be filled in the next five years.
Expanding its commitment to attracting men and women to the field, NALP says it is joining other national organizations and corporations in making a Pledge to America's Workers.

NALP says the Pledge is an initiative created through President Trump's executive order, which created the National Council for the American Worker, an entity tasked with championing "effective, results-driven education and training so that American students and workers can obtain the skills they need to succeed in the jobs of today and of the future."
Over the next five years, NALP says it will enhance career opportunities for more than 150,000 people, providing education and training, including through a new Landscape Management Apprenticeship Program and connecting prospective employees with employers.
NALP says the expanded educational offerings are intended to attract prospective employees into the field by demonstrating a commitment to professional development and increasing awareness that the industry offers career opportunities.
"Education and training have always been a core pillar of NALP's mission, but we are now creating even more opportunities for people to pursue careers in the landscape industry through the Industry Growth Initiative," said NALP CEO Sabeena Hickman. "We are honored to be part of the president's workforce initiative and joined by so many other industries in this pledge to grow the American workforce in the 21st-century economy."
OPEI and NALP to host webinar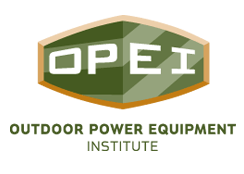 The Outdoor Power Equipment Institute (OPEI) and the National Association of Landscape Professionals (NALP) announced they will be hosting a webinar discussing the ban on backpack blowers on Aug. 29 at 1:30 EDT.
The groups hope that this webinar will help landscapers educate their local community leaders, customers and other stakeholders on the role this type of equipment plays in their communities, misconceptions about its design and the importance of the people using the equipment.
The groups say Evan Dackow, owner of Jolly Green Tree on Long Island, New York, will share his experiences with leaf blower bans on Long Island, how he's worked with communities for common sense solutions and lessons for other landscapers on how they can get engaged with their local officials.
The webinar is free for NALP members and costs $30 for non-members. To learn more and register, click here.
DynaSCAPE now part of EverCommerce companies
DynaSCAPE Software recently announced they are now part of the EverCommerce family of companies.
The company says long-time DynaSCAPE owners Mike Bosch and Kirk Were offer thanks and appreciation to all DynaSCAPE clients, partners and employees.
"DynaSCAPE is first and foremost a company based on relationships and we are so happy that DynaSCAPE's goal of providing great software and services will continue through this new relationship under the stewardship of EverCommerce and the DynaSCAPE team," said Were.
The company adds that EverCommerce's portfolio includes 19 companies, including 14 in the field and home service sectors, which provide software and services for small to medium-sized businesses. Currently, DynaSCAPE says EverCommerce helps 70,000 businesses across the globe run and operate more efficiently.
"We're excited about the growth and strategic opportunities ahead of us with our new EverCommerce partners," says Joe Salemi, manager of sales and marketing. "We have established our place amongst the top in landscape design and business management software solutions, and there's even more we will do with EverCommerce as we plan for our future."
"We are thrilled to bring DynaSCAPE into the EverCommerce family and support its continued growth," said Matt Feierstein, president and COO of EverCommerce. "DynaSCAPE's solutions have been a major contributor to the success of landscaping companies across North America and are an ideal addition to EverCommerce's portfolio of home service solutions. We're excited to work with the DynaSCAPE team during this next phase of their business to continue bringing new features and great service to their clients."