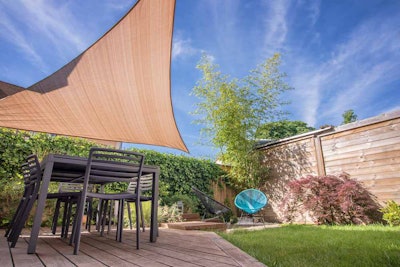 Across a majority of the country, people are experiencing the sultry temperatures of the dog days of summer, driving many indoors to escape the heat.
If your customers are looking for a way to cool down their outdoor spaces, talk to them about using shade sails.
The cloth canopy can be used in both residential and commercial settings to provide a welcome respite from the bright sun.
Shade sails are ideal for customers who don't want a permanent shade structure like a gazebo or pergola. The sails give homeowners the option of taking them down in the winter if they want to maximize the amount of sun their house gets during the cold months.
This shade structure looks best with contemporary architecture or landscapes that already have an artful style.
"I wouldn't suggest a shade sail for a Craftsman or a Tudor home," said Alison Terry, a landscape architect in Fullerton, California. "But for a modern one-story house, it's a great choice."
Pros and cons of shade sails
The main benefit shade sails boast is their ability to block around 80 to 90 percent of UV light, which is known to damage skin layers and result in sunburns and skin cancer.
Aside from blocking the sun's harmful rays, shade sails can provide a dynamic aesthetic to the space with geometric shapes and bold color choices. Shade sails can also help lower air conditioning costs by cooling areas around the house.
One of main drawbacks to shade sails is that they are not designed to protect people from the rain, so advise clients to avoid using non-weatherproof furniture under these structures.
A common issue that occurs if customers opt to go with a low-quality sail is sagging in the middle, as debris collects and pulls the fabric down. Properly installed shade sails can prevent this from happening.
Although some believe shade sails are a cheaper option than other shade structures, it's important to let your customers know that if they want the product to last, an average-sized sail could cost them from $6,000 to $8,000, and they'll need two or three sails for substantial coverage.
Potential locations
Before starting installation, it is important to take into consideration the size of the sail(s), the strength of existing structures that are to be anchor points, the angle of the sun, the location of high heat sources and wind speeds.
Shades sails should not be used near an open flame, as the heat and chemicals in the smoke can affect the lifespan of the sail fabric.
Tracking the sun's path and knowing where the sail will cast its shadow will help you select the prime spot for your client's backyard. Areas that may be barren of trees or too small for another shade structure can now be sheltered with a sail.
Prior to installing a shade sail, be sure to check with the local authorities to determine if there are any building codes or regulations related to shade sails. States like Florida and California have codes related to these structures.
Installing shade sails
After selecting a location, look for the most suitable mounting points for the corners. Existing supports could include structures such as a fence post, fascia or a wall. Some may consider using trees, but Coolaroo, a shade sail manufacturer, only suggests fixing shade sails to trees for temporary use and the tree's diameter must be at least 9.75 inches.
If there are not enough existing fixing posts, additional posts may need to be installed.
Posts can be made of treated wood or metal and the footing depth should be half the length of the exposed pole to guarantee stability.
Once all the corners of the sail cloth are attached, ensure the material is tensioned where it is rigid with little to no creases. Do not over tension, and re-tension periodically if needed.