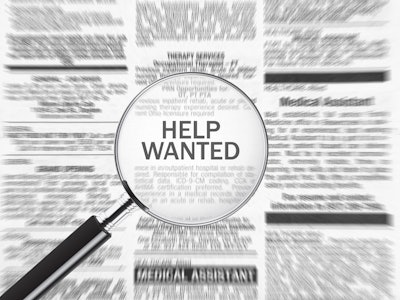 Yesterday, we covered questions you should ask when deciding if H-2B is a good fit for your business. If you have decided to give it try, there are still many questions you may be wondering and here are a couple you should be asking.
How many visas should you pursue?
While plenty of landscaping companies use the H-2B program, none of them would advise you to depend on it. When deciding how many visas to request, consider the processing fees and how your company will cope if you don't receive those workers.
"Do not rely on H-2B," says Chuck Monico, president of CM's A Cut Above, based in Omaha, Nebraska. "Full reliance on the program can sink your company if you don't receive your visas. Use a balanced plan to the extent you can. (It's) easier said than done, as there are not many potential U.S. citizens available for employment for one reason or another."
The first year CM's used H-2B, they requested six visas, and in 2018, they requested eight to supplement their staff of 45-50 employees. 2018 was the first year that CM's did not receive their visas.
Monico says 2018 was 'a hot mess' as they scraped and clawed in vain to find labor.
He says they had 10 open positions; the same 10 they have had all year and declined to bid on $1 – $1.5 million of work, making them less profitable.
After not getting his workers the first time, Dan Eichenlaub, president of Eichenlaub, Inc. based in Pittsburgh, Pennsylvania, says he works minimize the impact by keeping his foreign workers to less than 10 percent of his workforce on the chance he doesn't receive his visas.
"Ten percent you can make up with overtime," he says. "We can't make it up fully, but you can cover your bases relative to the customer a lot more with overtime and things like that."
Munie Greencare Professionals based in Caseyville, Illinois, works in eight states and in 2018 they requested 160 visas but only received 63. The company has a total workforce of 375-400 people at peak.
"We were behind and saw a huge turnover rate in many of the employees that we hired for our seasonal positions," says Erin Barr, director of human resources operations for Munie. "We were able to eventually catch up, but we had to engage in costly overtime and address customer dissatisfaction."
Munie's president, Joe Munie, shared this misfortune with Senate aides during the National Association of Landscape Professionals' (NALP) Legislative Day on the Hill in hopes that politicians will introduce a permanent returning worker exemption.
The returning worker exemption allows foreign laborers who have already worked in the U.S. to return without their visas counting toward the cap of 66,000 visas.
However, others who have previously been burned by not getting their H-2B workers suggest companies should only grow as large as the number of U.S. workers they can find.
"Do what you can with the employees you have," says Eric Schultz, owner of Schultz Industries in Golden, Colorado.
Schultz formerly used the program until he missed the deadline by one day and was then stuck trying to fill 40 labor positions for the season.
When should you start your application process for next year's visas?
Obviously, you don't want to end up like Schultz and miss out on your visas due to timing, so just when should you start applying for H-2B workers?
Part of this depends on when you need them, since the cap of 66,000 visas is divided evenly with 33,000 visas being available for workers who start during the first half of the fiscal year (Oct. 1 – March 31) and 33,000 visas for workers who begin employment in the second half of the fiscal year (April 1 – Sept. 30).
Monico says they start their application process in June of the year proceeding while Barr says their company starts in early Q1.
Eichenlaub says that his company starts working on having everything ready as soon as they are allowed. One of the many requirements in order to be considered for H-2B visas is to have filed a job order with the State Workforce Agency, and this job can start no more than 120 days before the need.
"If it's going to work on a 'first come, first served' basis, you want to be standing at the door the very first day you're allowed," Eichenlaub says.
Yet timing may not be as important going forward, as the U.S. Citizenship and Immigration Services (USCIS) is now using a lottery system to approve H-2B visa petitions instead of the 'first come, first served' system used in previous years.
Who can help you through the process?
As the systems, rules and regulations surrounding H-2B continually change, it is wise to enlist professional help to make sure your company is fully compliant and has the best chances of being approved.
Knowing that your business is observing all the requirements is particularly crucial now, as the U.S. Department of Labor's Wage and Hour Division recently announced it would conduct investigations of employers using the program.
CM's turns to a local law firm for help and Munie says they as well use an outside company for help to ensure they get their workers.
Eichenlaub says he uses a broker to help with the H-2B process.
"In my own opinion, I think the broker makes a big difference with getting the right workers and also having the wisdom to get you through the system with the best opportunity," he says.
Because all of Eichenlaub's H-2B workers are from Jamaica, he says it's hard to get his workers processed without the right connections.
"That's the reason to look for the right broker," he says. "I need a broker who was tied to Jamaica where if you were getting Hispanics, you'd want a broker who is tied to the Mexican Embassy."
Check back tomorrow for part three of this article, where we'll take a look at some of the challenges you can expect to face when using H-2B.