As part of Total Landscape Care's look back on 2018, here are the top 10 stories during the month of October.
10. Ferris celebrates 20 years of suspension technology at GIE+EXPO
The Briggs & Stratton Corporation came to this year's GIE+EXPO with a plethora of new products.
For the Ferris brand, the company introduced the IS 3200 Midnight limited edition commercial mower to celebrate its 20th anniversary of suspension technology.
Click here to read the full story.
9. Snow removal: Making the most of machines
This is part two of a four-part series. Click here to read parts one, three and four. Selecting the right machine to remove snow and ice will help you both satisfy client expectations and make the most of a shrinking labor pool.
We asked green industry experts to weigh in on their must-have equipment, how to best use these machines, how long this equipment should last and how they use equipment to attract workers.
Click here to read the full story.
8. Plethora of plows: Picking the right attachment for your operation
This is part one of a four-part series. Click here to read parts two, three and four. Adding snow removal services can help landscapers keep revenues flowing during the winter.
One basic decision will be what snow plow blade to use. Several factors will influence your choice, including the type of snow removal jobs you usually do and the host machine or truck you plan to use.
Click here to read the full story.
7. Husqvarna offers a little bit of everything for landscape professionals at GIE+EXPO
Husqvarna's message for landscapers at the 2018 GIE+EXPO is that it has truly become a full fleet solution for companies.
One of the new features Husqvarna announced was its partnership with Yamaha to create engines for the commercial Z500 zero-turn series.
Click here to read the full story.
6. Seeing synthetic turf as just another option in landscape design
For some landscapers, the usage of artificial turf on a project is unthinkable, but more are viewing the product as a solution for problem areas rather than a replacement for natural grass as a whole.
David Bennett, president and landscape designer of Bennett Design & Landscape in Atlanta, Georgia, is one of the landscapers who is seeing the possibilities for synthetic turf. His company has been using the product for at least six years now.
Click here to read the full article.
5. Why is work-life balance so important, and how do you get it?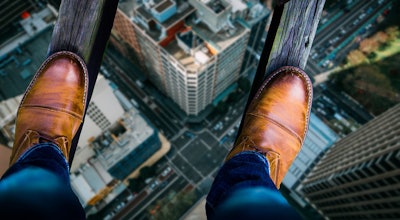 It's the rare elementary school student who stands up in front of the class and proudly proclaims, "I want to spend all my time working when I grow up!"
Somehow, though, this is often exactly what happens as the adult years take hold and responsibilities pile up like dirty dishes at an all-you-can-eat buffet. There's a reason the adage Work to live, don't live to work came into being.
Click here to read the full story.
4. Ten tips to increase your sales from landscaping
Growing your landscaping business can sometimes be a challenge. Not only are you competing against other local companies, but you also have to continually be on the lookout for potential new customers. Doing so can be time-consuming, particularly when you consider the actual work you have to do. However, there can be no denying the benefits of great landscaping for your customers. So how do you convince them of this?
Click here to read the full story.
3. Stihl adds on to both its gas- and battery-powered products
At the 2018 GIE+EXPO, Stihl strengthened its outdoor power equipment tool lineup on both the gas and battery side.
President Bjoern Fisher said that the company wants to be the number one seller of both gas- and battery-powered handheld equipment. The manufacturer displayed its commitment to its 'Pick Your Power" slogan by introducing both gas and battery-powered equipment at the tradeshow.
Click here to read the full story.
2. John Deere introduces three new mowers at GIE+EXPO
At this year's GIE+EXPO, John Deere revealed its new line of M and R Series commercial walk behind mowers, which the company says addresses primary customer needs of productivity, operator comfort, weight distribution and ground clearance. There were six new models released: W36M, W48M, W36R, W48R, W52R and W61R.
Click here to read the full story.
1. Billy Goat showcases newest line of stand-on blowers
Billy Goat, part of the Briggs & Stratton Corporation, created a whirlwind at this year's GIE+EXPO with the introduction of its newest addition to their stand-on blower line.
Starting in January 2019, the company will roll out the Hurricane X3 and Z3 zero-turn radius stand-on blowers. The company says these blowers are ideal for landscapers, schools, golf courses, parks, estate properties and sport fields.
Click here to read the full story.