The Synthetic Turf Council (STC) celebrated its 15th anniversary in October and it got its start from the synthetic turf manufacturers.
According to Dan Bond, STC president and CEO, the organization was formed so these manufacturers could talk about relevant issues and best practices, share networking opportunities and reach potential customers.

"STC came together to establish a code of conduct and code of ethics for the industry and establish the guidelines that would be for the industry and the end users," says Melanie Taylor, associate director of STC.
Since then, STC has grown to around 240 members and now represents the entire supply chain of synthetic turf with members from the material manufacturers to the landscape architects and installers.
Members receive multiple benefits, including but not limited to, networking opportunities, educational sessions and the ability to become certified.
The council hosts two membership meetings a year, with one in March and one in October, for networking and conducting educational programming.
"The educational program offers technical learning opportunities for synthetic turf," Taylor says. "We'll dive into looking at systems as a whole. We'll take on the technical pieces of turf, even breaking it down to the chemistry. We've expanded to look at landscape applications specifically and this is for the landscape installer members."
Taylor says that the STC is an approved provider of education with the Landscape Architecture Continuing Education System (LA CES), so licensed landscape architects may earn continuing education credits by attending the educational sessions.
The certification program is new, having launched this year, and recognizes Certified Turf Installers for Landscape (CTI-L) as the most highly trained installers for landscape synthetic turf.
"The certification is designed for landscape installers, specifically for residential and recreation," Taylor says. "It is a commitment by the individual that they show they've mastered a certain level of expertise and experience in the industry and they come highly recommended by their customers."
Those who wish to become certified must take a one-day course and then score 80 percent or higher on an exam after the course. The certification is good for a two-year period and certified landscapers commit to abide by the STC code of ethics and to pursue continuing education credits.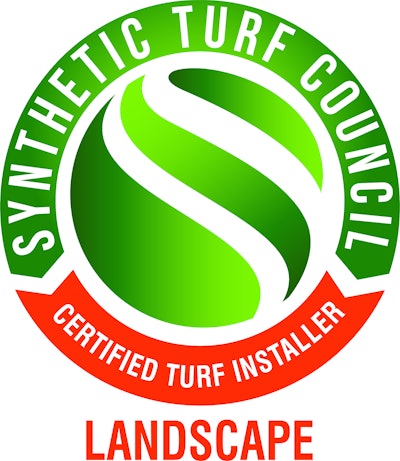 The cost of membership ranges from as low as $50 to $1,800. It is based on the gross revenue of the company's sales in synthetic turf only.
Yet being able to pay the fee does not automatically guarantee you a membership.
"You have to show you have experience and interest in the industry," Bond says. "You have to be recommended by a current member. You have to fill out an application and obviously pay a membership fee and then that application is reviewed and then approved. Then the member has to sign the code of ethics to agree to abide by the ethical requirements of all STC members."
There is also an awards program that recognizes excellence in categories such as landscape project of the year, philanthropy, innovation, sustainability, volunteer service and lifetime achievement.
The greatest challenge Bond says the council faces currently is educating the public on the benefits of synthetic turf.
Bond says the public's perception of artificial turf has been wary after Amy Griffin, the assistant head coach of women's soccer at the University of Washington, said in 2014 that many of her current and former players had been diagnosed with cancer after playing on artificial turf fields with crumb rubber infill.
He says despite there being multiple third-party studies saying there is no negative impact from playing on synthetic turf with crumb rubber infill, people are still suspicious.
The EPA along with the Center for Disease Control, Prevention/Agency for Toxic Substances and Disease Registry and the Consumer Product Safety Commission launched a research action plan to collect more information in 2016 and has concluded the collection and analysis phase.
A draft report was sent for external peer-review in May 2018 and the last update was the EPA aimed to release the draft report for public comment in the fall of 2018. The report will be finalized after the public comments are reviewed. While the due date for this report is unknown, Bond is hoping it will put people at ease.
"We're hoping it will answer the questions, that rightly so, that parents would have if they thought that a product had a negative health impact," he says.
The STC has a wealth of resources available to end users who are striving to make an educated decision about if synthetic turf is a good fit for them.
"Trade associations are all about creating programs that raise the minimum quality across the industry, and have others that benefit from it," Bond says. "We're looking to create other certification programs along these lines in order to raise awareness about the benefits of synthetic turf but also to make sure the end user is happy with the product and that they're getting the quality that they need for the application that they want it for."