The National Association of Landscape Professionals (NALP) announced that they will once again host their Workforce Summit March 1-3 in Alexandria, Virginia.
NALP says the two-day summit brings together workforce strategies from a variety of industries, with recruiting experts and industry companies to brainstorm and share solutions.
NALP says the keynote speaker, Eric Chester, is a renowned workforce development authority and author of the soon to be released Fully Staffed: Finding and Keeping Employees in the Worst Labor Market Ever. As a former landscape professional, NALP says he will share his findings on where today's most innovative companies are finding seasonal and entry-level employees.
The summit will also feature panels and roundtables on the future workforce, diversity and inclusion, success stories from landscape contractors and other industries and recruiting tips for Gen Z and millennials.
"The Workforce Summit has quickly become one of our most impactful events because we are discussing innovative solutions to the workforce shortage," says Britt Wood, NALP CEO. "Our members, through the Industry Growth Initiative and our Workforce Council, have led the way in attracting new workers and moving the needle for the entire industry."
Last year's summit sold out, so early registration is encouraged. The cost is $399 for NALP members and $599 for non-members, and the event is sponsored at the Platinum level by Caterpillar and by the Industry Growth Initiative.
For early registration, click here.
ASLA opposes executive order on design mandates
Wendy Miller, FASLA and president of the American Society of Landscape Architects (ASLA), recently released a statement regarding the proposed executive order to impose uniform design mandates on federal architecture.
"The American Society of Landscape Architects has profound concerns about a proposed executive order that would impose uniform style mandates on federal building projects," says Miller. "Our nation's design professionals are admired around the world for their creativity, innovation and diversity of thought. Designers of the built environment should not be confined by arbitrary constraints that would limit federal building projects to a single style. ASLA believes that the public interest is best served by a collaborative place-based process that continues to produce federal projects that reflect the unique needs and values of each community and its citizens."
SIMA now accepting nominations for Snow and Ice Awards
The Snow and Ice Management Association (SIMA) announced that it is now accepting nominations for this year's Snow and Ice Awards.
The following categories will be open for submissions: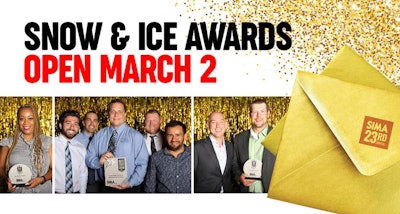 Best Companies to Work for in Snow and Ice
Snow and Ice All-stars (sales, HR/office, field ops and ops management)
Snow Executive of the Year (formerly CEO of the Year)
Safety Award
Community Service Award
Sustainability Leadership Award
Alan Steiman Scholarship
Nominations will open March 2, and the cost to enter is $40. SIMA says entrants are allowed to choose as many awards as they'd like, and it is free to apply/nominate for the Alan Steiman Scholarship and Snow Executive of the Year).
The winners will be honored during the Snow and Ice Symposium Awards Night and Celebration, sponsored by Caterpillar, on June 18.
The deadline to enter is April 24.
ANSI/OPEI officially publish the first robotic mower standards
The American National Standards Institute (ANSI) and the Outdoor Power Equipment Institute (OPEI) announced that manufacturers and start-ups will now be able to design robotic, battery-powered and electrical lawn mowers to the industry standard with the publication of the first-ever standard for this equipment.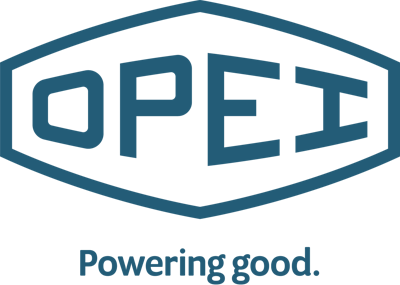 The groups say the publication of these robotic mower standards has been highly anticipated by the outdoor power equipment industry, and the global market for robotic mowers is predicted to grow by nearly 22 percent by 2025. The market is also estimated to be worth $1,400.62 million by 2025, according to a study last year by Grand View Research.
"Artificial intelligence, connected technologies and other innovations are changing all industries – including the outdoor power equipment industry," says Kris Kiser, president and CEO of OPEI. "Consumers and commercial users are getting more comfortable with the idea of using new tech, such as robotic mowers. Consumers today still want beautiful and useful yards they can enjoy and spend time in, but they also want to have smart yard maintenance that can be easily managed with an app."
Kiser adds, "What is available now for homeowners and commercial users should expand dramatically over the next few years, thanks to the publication of the standard. We expect to see more competition in this product category as manufacturers design equipment to meet the industry standard. It's an exciting time to be in the outdoor power equipment industry."
The ANSI/OPEI robotic mower standard is "ANSI/OPEI 60335-2-107-2020 (Standard) for Outdoor Power Equipment – Household and similar electrical appliances – Safety – Part 2-107: Particular requirements for robotic battery-powered electrical lawnmowers (national adoption with modifications of IEC 60335-2-107)." The standard was approved on Sept. 5, 2019, and will be sold through the ANSI website.
The groups say the standard was developed through a public input process that brings together consumers, manufacturers and commercial equipment users.
NAW elects 2020 officers
During the National Association of Wholesaler-Distributors' (NAW) executive summit in Washington, DC, members elected Douglas W. York as chairman of the NAW board of directors. York is the president and CEO of Ewing Irrigation & Landscape Supply, headquartered in Phoenix, Arizona.
York succeeds George Pattee, chairman of the board of Parksite Inc., headquartered in Batavia, Illinois. NAW says Pattee will remain active on the board as immediate past chairman.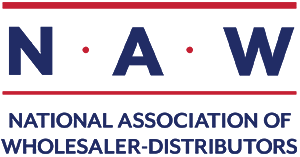 "I am honored to serve as the 2020 chairman of NAW," says York. "After receiving the benefits of NAW membership for more than 45 years, it's my time to give back to the organization that has helped Ewing, the largest family-owned supplier of landscape and irrigation products in the country, to grow and achieve its goals. Our team has benefited greatly from the networking and benchmarking opportunities, educational events, best practice thought leadership and business services that NAW offers. I've also developed wonderful business connections with other distributors through NAW. I am eager to work with this association and our members in 2020 and contributing to NAW's ongoing important work for our industry."
The following wholesale distribution industry leaders also were elected as NAW Officers for 2020:
Chairman-Elect: Michael Medart, president and CEO Medart Engine & Marine St. Louis, Missouri
First vice chairman: Jeff McLendon, president and CEO U.S. Lumber Duluth, Georgia
Second vice chairman: Michael DeCata, president and CEO Lawson Products, Inc. Chicago, Illinois
Secretary: Larry Stoddard, president and CEO Reladyne LLC Cincinnati, Ohio
President and CEO: Dirk Van Dongen, National Association of Wholesaler-Distributors Washington, DC
Completing the NAW 2020 board of directors are treasurer and chairman of the subcommittee on budget and finance, Joseph C. Nettemeyer, president and CEO of Valin Corporation, headquartered in San Jose, California; chairman of the NAW Association Executives Council (AEC), Rick Long of the Petroleum Equipment Institute; chairman-elect of the AEC, Kenyon Gleason of the National Association of Sporting Goods Wholesalers; and past chairman of the AEC, Ralph Suppa of the Canadian Institute of Plumbing & Heating.