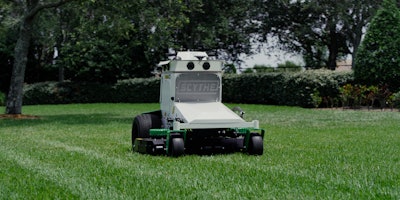 Scythe Robotics
The Green Industry's labor crisis is driving an increased need for autonomous robotic solutions. Scythe Robotics is answering that demand with the introduction of an all-electric, fully autonomous mower for commercial grade use.
This new technology also meets the call for more sustainable solutions which will empower the commercial landscape industry to further curtail the release of fossil fuel and noise emissions.
"To date, commercial landscape contractors haven't had a technology partner who enables them to keep up with demand and to operate emissions-free. We are that partner," said Jack Morrison, co-founder and CEO of Scythe, in a company press release.
"Our autonomous mower gives them the ability to grow their business, while staying green. It's designed from the ground up to be an order of magnitude more reliable, more productive, and safer than any existing machine by incorporating state of the art autonomy with a rugged, all-electric design," Morrison added.
According to Fred Haskett, veteran landscape consultant with The Harvest Group and Scythe advisor, this will be a gamechanger for the industry.
"Mowing sits at the center of a green industry labor crisis," he says. "In full-service landscape management companies, mowing operations account for up to 40 percent of labor utilization."
Safe and effective mowing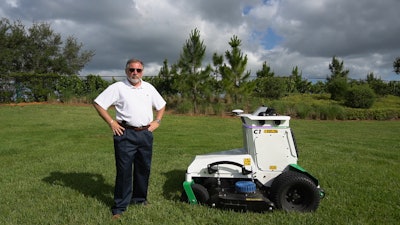 The Scythe autonomous mower features eight HDR cameras and a suite of other sensors which will enable it to operate safely and respond to the presence of humans, animals, and other potential obstacles in its path. The machine also captures valuable property and mower performance data which will help landscape contractors to improve workflow, identify upsell opportunities, schedule more efficiently, and manage labor costs.
Haskett says that the fact that this mower is not a retrofit, but rather built from the ground, up, as a commercial mower is a differentiator. Haskett was brought on as an advisor three years ago and says that the robotics company has been listening closely that entire time as to what the industry needs.
"Scythe saw a need but came from outside of our industry," Haskett explains. "I came on board to connect them to landscape professionals so that they could better understand their wants and needs. They were robotics experts but needed to better understand pattern cutting, quality of cut, deck size, how robust to build the deck, and many other industry specifics that would allow them to build a mower that met landscapers' demands."
Haskett says that Scythe has connected with all of the members of his peer groups—which are made up of landscaping companies from 2 to 50 million. And they've sat with them and listened.
"It's been a very detailed process," he says. "But the end result is a mower that is going to fulfill industry needs."
Continued growth
Scythe also announced its $13.8M in Series A funding, led by Inspired Capital with participation from existing investors True Ventures, Zigg Capital, and Lemnos, brining the company's total funding to $18.6M. According to the company, the new investment will be used to grow their existing operations in Texas, Florida, and Colorado, expand with new customers, and accelerate development of future products that they expect to continue to impact efficiency and productivity, despite labor challenges.