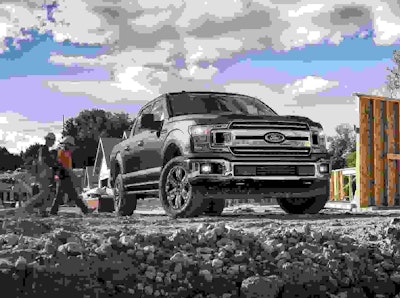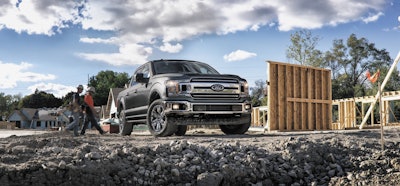 While Ford F-150 fans are excited to hear about the new diesel option coming to the 2018 model, they'll have to wait until spring of next year to get it.
The news came yesterday as Ford released more information on its upcoming pickup, including performance numbers on its all-new 3.3-liter V6, which the automaker reports say has more horsepower, torque and improved gas mileage over its previous 3.5-liter V6. Ford also provides impressive numbers on its second-generation 2.7-liter EcoBoost V6 (See the first engine comparison chart below).
Yes, the smaller-is-better crowd continues to grow as Ford reports that 75 percent of its customers this year have opted for new pickups with a V6 instead of a V8 (The second chart below shows a seven-year evolution of Ford's V6 for the F-150). For those of us that grew up revering V8s, like Ford's 351 Cleveland, it's sort of an awkward head-scratcher, but nonetheless you can't beat the numbers—not only in terms of horsepower and torque gains, but for cutting weight.
"Aiding in light-weighting, the standard 3.3-liter V6 in the 2018 F-150 is projected to offer a five percent power-to-weight ratio improvement versus the steel-bodied 2014 F-150 equipped with 3.7-liter V6 – with better anticipated fuel efficiency and performance," Ford states in its press release.
And Ford has been all about cutting weight. Going to an aluminum body on its F-150 has meant shedding 700 pounds over its steel counterpart. That adds up to more towing and hauling capabilities.
Another highly anticipated newcomer making its way to the engine bay of the 2018 F-150 is the 3.0-liter Power Stroke V6 diesel, which was designed, engineered and tested in-house. It'll be paired up with Ford's 10-speed automatic, but you'll have to wait until spring to get it.
Ford did not provide performance ratings on its new V6 diesel. Hard Working Trucks reached out to the automaker to learn more about its latest addition to the Power Stroke family. Ford said more information will be coming later this year.
Ford does have plenty to say about its second-generation 2.7-liter EcoBoost V6.
"With advanced dual port and direct-injection technology, the all-new second-generation 2.7-liter EcoBoost engine delivers a 25 lb.-ft. increase in torque, and at lower engine speeds compared to a traditional V8. Like the second-generation 3.5-liter EcoBoost that debuted last model year, the 2.7-liter will be paired to a segment-exclusive 10-speed automatic transmission for 2018," Ford states.The 5.0-liter V8 also gets a boost for 2018.
"This naturally aspirated engine brings significant upgrades including advanced dual port and direct-injection technology for 10 more horsepower and 13 ft.-lb. of torque," Ford adds. "In addition, the engine features spray-on bore liner technology featured in the high-performance Mustang GT350, all to squeeze out even more weight from the aluminum block."
For the first time, the V8 is paired with a Ford-built 10-speed automatic transmission. EPA-estimated fuel economy will be announced closer to market availability.
In addition to its segment-first 10-speed automatic, F-150 is the first full-size pickup to add Auto Start-Stop as standard equipment across all models and engines.
The 2018 Ford F-150 arrives in dealerships this fall. It is built at Ford's Dearborn Truck Plant in Dearborn, Michigan, and Kansas City Assembly Plant in Claycomo, Missouri.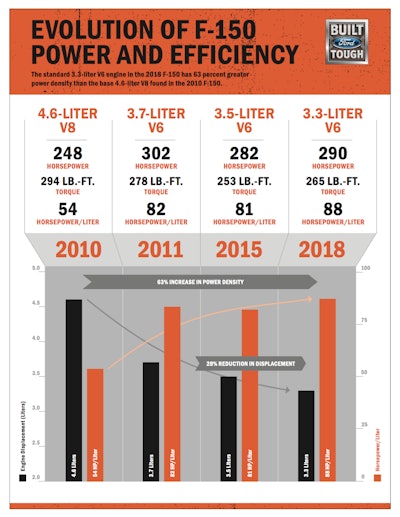 EDITOR'S NOTE: Tom Quimby is the associate editor of Hard Working Trucks, another Randall-Reilly publication. Reach him at tomquimby@randallreilly.com. Follow him on Twitter @tom_quimby.