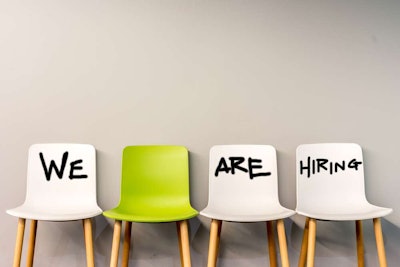 A 2017 study done by IBIS World reported steady growth in the housing market over the past few years. This resulted in a greater demand for landscape industry workers, and IBIS World believes this growth will only continue in the coming years.
Even though the demand for landscapers seems to be great and growing, more landscaping companies find it hard to hire and retain reliable employees to meet this need.
When it comes to hiring and retaining quality workers, what exactly does it take from a business owner's standpoint to make the job worth staying, and how can you get the word out to more interested individuals?
Addressing the issue
Schools
According to Joe Raboine, national design and training specialist on the Belgard Design Studio team, the number one concern he's found when talking with landscaping companies across the nation is the difficulty of hiring, particularly with skilled labor.
"It's something that our national training team is trying to address," he says. "Part of our goal moving forward is to make better connections with national and regional organizations, trade schools and high schools to try and promote the idea that there are career opportunities in this business, whether that means working for someone or starting your own company."
In his experience in the green industry, Raboine thinks one of the best ways to help fix this labor shortage is to educate high school students on the numerous possibilities of the industry. While it might not be true for all parts of the country, Raboine recognizes that many areas have cut vocational training in high schools.
Raboine has also noticed many companies nationwide trying to attract employees by increasing wages, but he believes this to be comparable to putting a Band-Aid on the problem instead of actually solving it.
Raboine thinks a key part of fixing this shortage is to attract and keep the younger generation by talking to them about the benefits of owning their own business, such as being your own boss, more flexible schedules and having a money-making outlet to express your creativity while still earning a living.
To help combat this, Raboine says that Belgard is working on creating a mentoring program that will bring in industry experts to talk with interested students about the job field.
"I think high school is the best place to start," he says. "I think it's just about getting the message out there. Having been a contractor, (I know that) the workforce that was here 10 years ago left and went on to do something else during the recession. So, there's huge gaps in a lot of markets where, compared to other trades, there aren't a lot of people that have been doing this for 10 or 20 years."
Raboine recognizes that the scarcity of dedicated employees isn't an issue strictly limited to the field of landscaping, but because of the seasonal aspect of the field, he believes the employee shortage is much more noticeable.
Gerardo Rodriguez, president and owner of Pullmann's Landscape and Associates Inc. in Morehead City, North Carolina, agrees that more needs to be done to help shed light on the industry before students graduate high school.
"Not every kid is college material," Rodriguez says. "They put it in the kids' minds that they have to have a college degree, but they don't tell them that one out of 100 kids will get the CEO job. If they find in high school that a kid is not college material, they can pitch him a career. And this kid in the future can have a great career and make a lot of money."
In the coming months and years, Rodriguez says he hopes to collaborate with members of his current workforce and reach out to local schools in hopes of recruiting interested students. He suggests introducing middle school students to the green industry instead of waiting until they are in high school to help get them motivated earlier on.
"We go against a lot of challenges with growing and finding employees," Rodriguez says. "No matter what we offer, that's the big challenge."
Clinton Tucker, a landscape architect and owner of Sugar Hill Outdoors in Dacula, Georgia, hopes that by talking to students early on, more will come to understand the vast amount of opportunities that the green industry offers.
"(People need to) get over the misconception of thinking that landscaping is just cutting grass or running a weed eater all day," Tucker says. "There's an interest, and it's an industry that most people don't even think about going into. But it's also an industry that you could, in my opinion, go through some of the Belgard University stuff and be extremely knowledgeable to eventually own your own business not long out of high school."
Tucker agrees that introducing students to this industry in middle school could ultimately prove to be more helpful to the future workforce than waiting until high school.
"At that age, they can be taking pride in cutting their own grass and making it look good," he says. "Then they can notice stuff they might not think about, like swells on the side of the road and different types of plant material."
Incentives
Along with getting the word out to future employees comes the task of keeping the ones you have happy, as well as finding new ones when the need arises. But what is the best way to go about that?
"You'll see some of the more established companies try to offer things like profit sharing or try to incentivize them somehow," Raboine says. "(Keeping employees) is definitely a problem, more so in the north because of the time off. You can't expect people to be around if you don't snow plow. And it seems like you have a lot of younger people that come in and by the time they're in their late 20s and start to have a family, it's difficult to maintain that."
Raboine says he's seen businesses in the industry that have the opportunity to expand and grow fall short more times than he can count because they are unable to find qualified workers or people willing to learn the trade. He thinks that by developing training opportunities for people of all skill levels, it could help fill some of those gaps.
Rodriguez also says that one of the most important aspects to keep in mind when looking to hire employees is the location your company is in and, realistically, what you can offer them over your competitors.
In his area, Rodriguez says that the pay can sometimes be low, but when this is the case, he says it's vital that companies offer bonuses and other perks to incentivize employees and keep them content. Whether it's providing lunch for employees, extra holiday time or cash bonuses, Rodriguez believes that showing your employees that you truly care about their lives and well-being can help greatly boost their morale.
Other than offering bonuses, Rodriguez says that sending employees to training courses and classes to further their industry knowledge is another excellent method for keeping them content.
"I'm willing to motivate people in any way possible, but some other people think that (this type of) education is wasting time and money," Rodriguez says. "It makes my life easier to have someone go to school and learn, so when they come back they can do the job."
Rodriguez adds that when his employees return from these courses with more knowledge on their specific area, it keeps him from having to micromanage his employees, which he says hurts a business more than helps.
"I am what I am because of my employees," Rodriguez says. "Not only do they deserve my respect, they need to feel appreciated."
No matter the size of your company, Tucker stresses the importance of keeping reliable employees on staff, especially in such a competitive industry.
"I don't ever prevent my guys from getting better, so I incentivize them," he says. "The more knowledge they have, the more they're worth to me as a company. So, I pay them more or I will give them bonuses. If any of my guys want to take classes in the landscape industry, I told them I would pay for everything that they want to go to."
Tucker also notes that one of the most important aspects of being the owner of or leader in a company is to never ask your employees to go the extra mile if you aren't willing to do it yourself.
"I wouldn't ask them to do anything that I wouldn't go out there and do myself," he says. "Because for the first 15 years, I was out there doing it all myself with them."