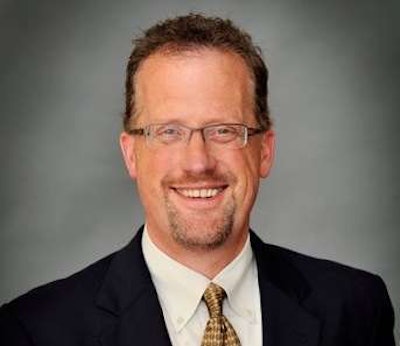 After 10 years of serving as Doosan Bobcat North America's president, Rich Goldsbury has decided to retire.
Goldsbury's last day will be Nov. 30. The president and CEO of Doosan Bobcat, Scott Park, will serve as interim president until a new leadership structure is established for Doosan Bobcat North America.
"Rich's contributions during his tenure as president have driven improved performance and innovation for the business in North America," Park says. "I would like to take this opportunity to thank Rich for his dedication to the company and congratulate him on a distinguished career. We wish Rich and his wife, Cindy, all the best on his retirement and this next phase of life."
Goldsbury took on the role of president in 2008 to help with the transition of Bobcat Company from Ingersoll Rand to Doosan.
He guided the company through the Great Recession and lead the movement to modernize the company's facilities with the construction of the Acceleration Center in Bismarck, the renovation of company headquarters in West Fargo and improvements of the Gwinner manufacturing facility.
Goldsbury has more than 30 years of industry experience, covering everything from marketing, finance, engineering, product portfolio management, mergers and acquisitions and more.
Ruppert Landscape adds new regional snow manager
Ruppert Landscape has hired Josh Nichols as regional snow manager in the company's landscape management division.
Nichols holds a bachelor's degree in landscape horticulture from Ohio State University. He worked for Urban Environments in Columbus, Ohio, and eventually Brickman after Urban Environments was acquired in 2004.
He has worked for Brickman (now Brightview) for the past 16 years. For the past six years, he held the position of regional snow manager with oversight of $60 million in annual snow revenue. The company says Nichols traveled to a number of branches across nine Midwestern states, preparing him for his new role in overseeing more than a dozen Ruppert locations in the Mid-Atlantic region.
"The addition of this new position will help ensure that we will remain well positioned to continue providing reliable, first-rate snow removal services to our customers," said Tom Barry, president of the landscape management division. "In this position, Josh will focus on applying his vast experience and knowledge of an evolving industry to strengthen Ruppert's snow business and, with that strength, protect and grow our landscaping business."
Bayer hires industry vet for its Green Solutions Team
Bayer Crop Science's business unit Environmental Science has added Todd Lowe to its team.
Lowe will work with customers in Florida by providing technical expertise and education. He has helped create the Best Management Practices for the Enhancement of Environmental Quality on Florida Golf Courses manual and is a volunteer with Audubon International and assists Florida golf courses with certification as Audubon Cooperative Sanctuaries.
"For over 18 years, Todd has been educating and empowering the industry through his work with USGA Green Section," says Laurence Mudge, Bayer Green Solutions Team manager. "His passion for advancing the green industry is clear, and his technical knowledge and agronomic expertise, particularly in the Florida region, will be an invaluable asset to our customers."
Prior to his 18 years as an agronomist at the United States Golf Association, Lowe was a graduate research assistant and technician at Clemson University. He has a master's degree in Horticulture from Clemson as well as a bachelor's in environmental horticulture from the University of Florida.
"You wouldn't make it far in this line of work if you didn't love it," Lowe says. "But it's not the agronomic problem-solving and scientific innovation that I'm looking forward to the most. It's the people I will interact with every day in my work with Bayer – from customers to colleagues. Together, we will solve problems that are critical to the success of the turfgrass industry."
Echo partners with Lake Zurich High School
Echo has launched a robotics-based partnership with Lake Zurich Community Unit School District 95 in Illinois.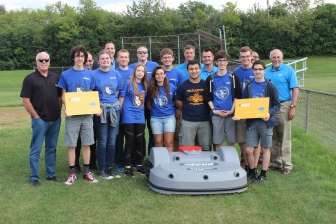 The school will serve as a test site for Echo's robotic mowers with one currently in operation on one of Lake Zurich High School's (LZHS) baseball fields. The students will be provided with an opportunity to learn about real-world engineering and gain problem-solving experience. It will also allow Echo Robotics to troubleshoot its autonomous mowers before they hit the U.S. market.
"The Echo business-education partnership is a model for 21st-century learning, connecting students with real-world opportunities like the autonomous mower project, internships or job shadowing solidifies the learning connection while also developing the workforce of the future," says Kaine Osburn, District 95 superintendent.
Aside from the partnership, Echo has also promised material support for the high school's robotics program and to give an annual $20,000 to the District 95 Educational Foundation for the robotics team.
"We are very excited about our partnership with the Lake Zurich School District," says Joe Fahey, vice president of Echo Incorporated. "Through our robotics program, we will be able to engage students interested in engineering, robotics, computer science and business principles by allowing them to learn and participate in the development of our industry-changing technology."