New Holland has recently introduced its new C245 Super Boom compact track loader.
The company says it offers the highest level of performance in a New Holland vertical lift machine. With an operating capacity of 4,500 pounds, breakout force of 9,188 pounds and high-flow hydraulics, the company says it's the largest, most powerful New Holland compact track loader model yet.
The company says the C245 will be on display at this year's GIE+EXPO at booth number 1054 and will be available to demo at the outdoor lot.
"The trend in the industry is for larger machines that are capable of doing more work in a shorter amount of time," says Ryan Anderson, New Holland compact track loader product marketing manager. "The 90-HP C245 not only delivers more power, more lift capacity, more hydraulic horsepower and more hydraulic flow, but the rugged construction, smooth, stable ride and exceptional visibility allow operators to work with more confidence and speed."
New Holland says the C245's massive auxiliary hydraulic system dramatically increases productivity when powering high-flow, high-performance attachments like heavy duty forestry cutters and mulchers, concrete and pavement saws, high-flow trenchers and augers and manhole cutters.
"Time is money on any job," Anderson says. "The C245 delivers hydraulic horsepower of up to 82 horsepower and up to 40 gallons/minute of hydraulic flow with the high-flow option. Highly productive attachments that require lots of hydraulic horsepower and flow to work at peak performance work efficiently and quickly when powered by the C245. That means more work can be accomplished in less time."
The company says the patented, vertical-lift super boom design provides long forward dump reach and fast cycle times, and it reaches up and out to dump cleanly into the center of high-sided trucks and hoppers.
New Holland says operators can empty the bucket faster and easier, which in turn increases cycle times.
"Whether loading gravel into a truck, stacking dense, heavy bales, placing pallets of brick, block or sod or lifting and carrying other heavy materials, the bigger, beefier C245 is exceptionally productive," says Anderson.
The company says the C245 is also outfitted with one of the industry's widest, most comfortable cabs with plenty of head and foot room for easy access in and out of the machine.
"Comfortable operators get more work done," Anderson says. "And better visibility allows safer and more efficient work. This is an area where the C245 really stands out from the crowd."
New Holland says the steel front work lights with sidelamps also deliver extra visibility during nighttime operations.
Cat introduces heavy duty skeleton and discharge buckets
Primarily used to separate rocks and large debris, Caterpillar says the Cat skeleton buckets feature heavy duty construction and can be used in industries such as landscaping, agriculture, land clearing, demolition and scrap handling.
Cat says these buckets were designed for use with skid steers loaders, compact track loaders, compact wheel loaders and multi-terrain loaders. The company adds that the buckets incorporate many structural elements that ensure efficient operation and long-term durability.
The skeleton buckets use heavy steel rods, 1.25 inches in diameter on 3.75-inch centers, to form the back and floor of the bucket. The sides of the bucket are formed using thick plates with rectangular openings.
The company adds that a rectangular frame fabricated of heavy duty steel and incorporating two steel plate rock dams strengthens the back of the bucket. These rock dams, Cat says, retain material and reduce spillage and increase production.
Cat says steel gussets are welded between the outermost rods in the bucket floor and sides for added durability and the forward ends of the rods in the bucket floor are secured in a heavy duty support beam positioned between the bucket sides.
The company says this beam not only provides support but also allows the bucket to be used for grading. Heavy steel tines are also welded to the forward tips of the rods and support beams, which the company says enhances breakout force by initially separating rock and debris from soil more effectively than with a solid cutting edge.
Cat has also introduced side discharge buckets, which the company says are designed for use with skid steer loaders, compact track loaders, multi-terrain loaders and compact wheel loaders.
The buckets can collect and transport loose materials such as sawdust, mulch, sand and topsoil and then discharge these materials via a belt-type conveyor from adjustable doors on either side of the bucket.
Cat says the buckets feature a rotating agitator that works to keep material flowing to the conveyor. The company adds that adjusting conveyor speed and door opening controls the volume of material discharged and the area covered.
These buckets can be used in industries such as landscaping, agriculture, construction, material handling and road maintenance.
Featuring a heavy duty, raised chevron tread design, Cat says the rubber conveyor belt is equipped with an adjustable tensioning device that's engineered for long-term durability and functions efficiently whether discharging material left or right.
The conveyor is directly powered by two externally mounted, reversible, hydraulic motors, which the company says eliminates any intermediate drive mechanisms.
The remaining material in the bucket can escape through specially designed openings in the bucket floor, which Cat says prevents material build-up beneath the conveyor.
Designed for consistent use in sand or other materials, Cat says the side discharge buckets feature an internal baffle to reduce belt strain.
Directly powered via a third, high-torque hydraulic motor, Cat says the agitator assembly functions to reduce material bridging in the bucket to ensure consistent material flow to the conveyor.
The company says agitator paddles are available in sawdust and sand configurations with the sand style featuring a straight design that exerts added force to push through dense material. Cat says the sawdust configuration features an aggressive design that uses prongs to assist in breaking up material and reducing weight on the conveyor.
The manually adjustable discharge doors regulate the volume of material discharged. The company adds that the doors are built with thick-plate reinforcing for durability, and a welded, serrated step facilitates entering and exiting the cab.
Drafix Software announces Earthscapes coming to an end
Drafix Software, Inc. acquired Visual Impact Imaging's Earthscapes product in April 2016. Since then, the company says it has been providing free technical support for all Earthscapes users.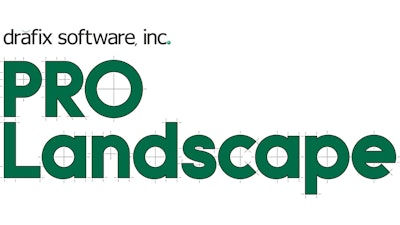 As of March 2019, Drafix says Earthscapes will reach its "end of product life." If you have Earthscapes installed, the company says it will continue to operate, but Drafix Software will no longer provide support or registrations as of March 2019.
The company says it's offering special "migration pricing" for Earthscape users to move over to PRO Landscape at a substantial discount, as it has done since the initial acquisition back in 2016.
In an effort to make sure no Earthscapes users are left behind, Drafix says it will be offering an additional $100 discount on migrations from Earthscapes to PRO Landscape through the end of October.
Woods introduces new FZ22-2 zero-turn mower
Woods Equipment has introduced its new FZ22-2 zero-turn mower.
This front-mount mower features cutting decks mounted in front of the power unit, which the company says improves visibility and makes it easier to turn around and cut under low growing trees and foliage.
The FZ22-2 has a longer wheelbase, and the company says it distributes weight more evenly. Woods adds that the full suspension adjustable seat is also a standard feature that reduces operator fatigue and allows for hours of mowing comfort.
Woods says the TrueFloat deck follows the contour of the ground for a better cut, and it is available in 54" or 61" decks to achieve an adjustable cutting height of 1-5".
The deck design also features a fabricated 5" deep deck, according to Woods, with a welded bumper. A patented V-Baffle system, the company says, creates strong suction and lifts grass for a precision cut and keeps dust under the deck.
Built with a 22 horsepower Kawasaki V-Twin OHV gas engine, flip-up seat, cup holder and storage compartment, Woods says the FZ22-2 also has a standard roll-over protection system (ROPS) to add to operator safety.
Winter introduces V-plow guard system to contractor market
Winter Equipment recently announced the launch of its V-plow guard system, featuring steel blades, center and outer PlowGuards, hardware and installation instructions.
All steel is reinforced with Winter carbide matrix hard facing weld, which the company says increases blade efficiency while also reducing damage from rough roads and unseen obstructions.
The company adds that the PlowGuards and blade work in tandem to protect and reduce uneven and premature wear, which they say will eliminate in-season blade changes and reduce downtime.
"V-Plows have significantly increased the quality and efficiency of small independent plow operations, as well as allowing one vehicle to work in multiple situations," says Kent Winter, founder and CEO of Winter Equipment. "A plow that is broken or damaged is a plow that's not making its owner any revenue, and in a one-plow operation, that's fatal. Our V-plow guard system can pay for itself in just a couple seasons with greater uptime, while increasing efficiency because of our superior design and attack angle."
Currently, the company says the V-plow guard system is compatible with Western, SnowEx and Fisher plows, and there are plans for additional models currently underway.