The National Garden Bureau, American Meadows and Sakata Seed America have selected the three winners of its therapeutic garden grant.
After receiving almost 60,000 votes from the public and 73 applications, below are garden grant winners.
The first-place vote went to Beyond Boundaries in Ward, Arkansas. It will receive a $3,000 grant. Founded in 2003, Beyond Boundaries is an equine-assisted therapy center for children and adults with disabilities. It's located on a piece of land in central Arkansas and is home to a herd of horses trained for therapy sessions.
The therapy center is currently working on designing and developing a sensory garden to expand its offerings and develop a safe place for outdoor exploration. Sensory gardens are beneficial to those who have sensory processing issues, as it will provide a place in the natural environment for individuals to stimulate all five senses.
The second-place winner and recipient of a $1,000 grant is the Kenny Rogers Children's Center Sensory Garden in Sikeston, Missouri. The center is an outpatient pediatric therapy center whose mission is to improve quality of life for children with special needs and their families by offering developmental and therapeutic services.
The 1,600 square foot garden is designed to provide sensory exploration for children of all ability levels. Aside from catering to the five senses, the garden will also feature a vestibular system and proprioceptive/kinesthetic system. The garden will be fully accessible to children of all ages, including those that need assistive devices such as wheelchairs or crutches.
The third-place vote winner and the other recipient of $1,000 grant is Insight Garden Program in Berkley, California. The Insight Garden Program provides environmental education curriculum along with vocational gardening and landscaping training, allowing people in prison to reconnect with self, community and the natural world.
Since 2002, Insight Garden Program has managed a program at San Quentin Prison. It has designed, installed and maintained two gardens on H-Unit and has worked with over 1,000 participants who have gone on to be employed by green sector employers including Planting Justice.
GIE+EXPO and HNA mobile apps available for download
Attendees of the GIE+EXPO or Hardscape North America tradeshows that are held in conjunction in Louisville, Kentucky, Oct. 17-19 can now download a free app for each show.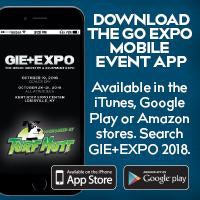 Both sponsored by Turf Mutt, attendees can download the Go EXPO or Go HNA app through iTunes or the Google Play store.
Users of both apps can take advantage of the Personalized Planner tool to build a custom itinerary of preferred sessions and take notes with the My Notes feature. Users can request appointments and use the interactive floor plan to find various booth locations.
The apps can search for exhibitors, show their product information and pull up the conference schedule for upcoming sessions.
Users can read, follow and comment on tweets and Facebook posts from fellow attendees and exhibiting companies. The apps will also share exclusive updates, notifications and blogs from show management.
OPEI reminds landscapers to 'look before you pump' this fall
As the summertime ban of E15 gasoline is lifted, the Outdoor Power Equipment Institute (OPEI) reminds landscapers to be vigilant about what they are putting in their outdoor power equipment with its 'Look Before You Pump' campaign.
"Outdoor power equipment is not designed, built or warranted to run on fuel containing 15 percent ethanol – it can damage or destroy equipment. Consumers are advised to read their owners manuals for guidance on correctly fueling their products but should be generally aware that only fuels containing 10 percent or less ethanol should be used," says Kris Kiser, OPEI president and CEO.
Currently, the Environmental Protection Agency (EPA) bans the sale of higher ethanol blends like E15 during the summer due to concerns that it contributes to smog on hotter days. While E15 may be less expensive, OPEI stresses that landscapers should select gasoline based on equipment specification instead of just price.
"These mid-level ethanol fuels are not for use in non-road products, such as mowers, chainsaws, generators, UTVs, ATVs, boats, snowmobiles, motorcycles and other outdoor power equipment," Kiser says. "Until Congress resolves longstanding challenges with the Renewable Fuel Standard and marketplace realities, these uncertainties will continue to exist."
Case's parent company named industry leader in Dow Jones Sustainability Indices
CNH Industrial, parent company of Case Construction Equipment, has been named as the industry leader in machinery and electrical equipment in the Dow Jones Sustainability Indices (DJSI) World and Europe for the eighth year in a row.
The DJSI World and DJSI Europe are considered some of the most prestigious sustainability-focused equity indices. Companies included in these indices are judged as exemplary in their economic, environmental and social performance.
"CNH Industrial's commitment to sustainability is foundational to our organization," says Michel Marchand, vice president – North America, Case Construction Equipment. "Everyone here at Case is proud to be part of a family of brands whose global initiatives have such a significant impact on our communities. Sustainability efforts impact much more than just environmental issues. Our community-building efforts through Dire States, the Kickstart Contest, Victory Garden Blitz, Habitat for Humanity volunteer as well as our partnership with Team Rubicon have all played a small part in making CNH Industrial the global sustainability leader in our category."
Out of the original 91 companies invited to participate in the machine and electrical equipment industry category for DJSI World, only 11 were admitted to the index. For the DJSI Europe index, 30 companies were invited to participate and only six were admitted.
CNH Industrial's 2018 assessment resulted in a score of 88/100. It received the highest score in all three dimensions of analysis: environmental, economic and social.