As part of Total Landscape Care's look back on 2019, here are the top 10 stories during the month of May.
10. Understanding and treating effects of the rugose spiraling whitefly
According to experts at Arborjet, the highly invasive rugose spiraling whitefly (Aleurodicus rugioperculatus), a relatively new type of whitefly in Florida, has reappeared.
First identified in 2009 in Florida, experts say this invasive species has spread throughout the state since its discovery. The rugose spiraling whitefly will suck the nutrients from a plant or tree, causing wilting, stunting, leaf drop and yellowing, which will cause severe damage.
Click here to read the full story.
9. How to use landscape fabric for the right jobs
Landscape fabric is often a maligned material due to previous bad experiences, but Jobe's is here to set the record straight of how this product should be used and the benefits it can provide.
The main complaint landscapers tend to have against landscape fabric is that it doesn't stop all weed growth, yet Kim Kemper, vice president of marketing with Jobe's, says that the fabric can only retard or reduce weed growth.
Click here to read the full story.
8. Maintaining your customer's retention pond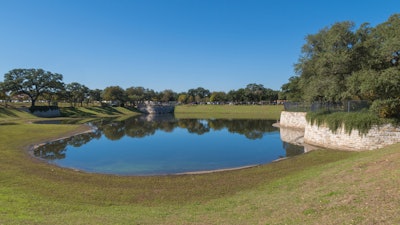 Water features can be one of the most exciting and eye-catching aspects of a landscape, but it's important to make sure both you and your customer are keeping a close watch on it, especially if it's a retention pond.
Retention ponds are primarily used to help improve the quality of urban runoff from residential neighborhoods, roads, parking lots, industrial sites and commercial areas, as well as to reduce peak stormwater runoff rates by providing temporary water storage during heavier storms.
Click here to read the full story.
7. Lawn care: The dirt on St. Augustine grass
To a homeowner, the turf that makes up their lawn isn't given much thought unless it is causing problems. Yet as a lawn care operator, you know there are many nuances to turfgrass and its many species.
Among the warm-season grasses that thrive in temperatures between 75- and 90-degrees Fahrenheit, there is St. Augustine grass. It is a dark green grass with broad, flat blades. It maintains its color longer during a drought compared to Bermuda grass or zoysia grass, which tend to go dormant in droughts.
Click here to read the full story.
6. Industry roundup: EPA reaffirms glyphosate not a risk to public health
Recently, the Environmental Protection Agency (EPA) announced that a final interim determination on the review of the herbicide glyphosate has been reached.
According to the National Association of Landscape Professionals (NALP), the EPA has concluded: "that there are no risks to public health when glyphosate is used in accordance with its current label and that glyphosate is not a carcinogen."
Click here to read the full story.
5. Help homeowners determine why their lawn is brown with this infographic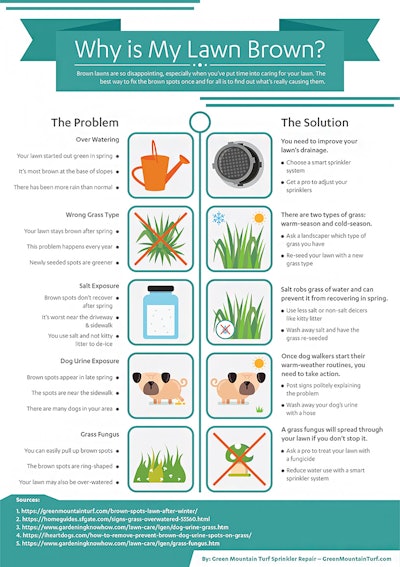 If you have potential customers or current clients calling asking why their lawn is brown there are a number of possible reasons why.
From not planting the right type of grass for the region to overwatering, the explanation can vary. Below is an infographic that you can share with homeowners so they can determine what the probable cause is and how to remedy the situation with your help.
Click here to read the full story.
4. Design/build: Ornamental trees for landscaping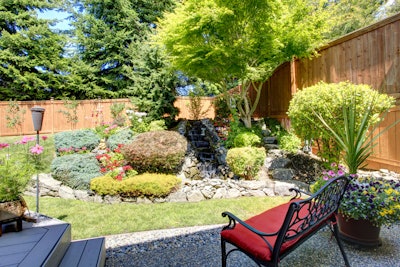 Not all trees have to be soaring specimens in a landscape in order to be effective. A number of ornamental trees are ideal for many spaces, especially in shrinking backyards.
Ornamental trees are grown to provide more beauty to a site with its flowers, bark, shape, fall color or a combination of these beautiful features.
The landscape design possibilities for ornamental trees are great as these plants can provide height, structure and interest to a property. Below are just some of the design options for ornamental trees and some suggested species to consider.
Click here to read the full story.
3. 2019 Ford Ranger targeted in class-action suit, Ram recalls 410,000 pickups for defect in tailgate lock
According to Hard Working Trucks, Hagens Berman, the law firm behind the Volkswagen's Dieselgate lawsuit, recently announced a class-action suit accusing Ford of falsifying fuel economy data in 2019 Ford Ranger trucks.
The suit claims Ford was "knowingly installing a mileage cheat device and misrepresenting fuel economy ratings" in its latest midsize trucks. The device is also referred to as an emissions-cheating device, which attorneys say is "also likely installed in F-150 trucks and possibly all other Ford vehicles."
Click here to read the full story.
2. Busting myths about robotic lawn mowers
The debate between using or losing robotic lawn mowers is one that's been in circulation since Husqvarna first released the machines in the U.S. in 1995.
Total Landscape Care reached out to industry experts to discuss what the introduction of robotic mowers means to the green industry.
Click here to read the full story.
1. Industry check up: How far has handheld battery-powered equipment come?
At the recent Home Depot Backyard event held in Atlanta, Georgia, experts from multiple companies gathered to showcase the latest additions to their lines of battery-powered products, but many professional landscapers might be wondering how these products will benefit their everyday work.
Experts from Makita and users of EGO products have weighed in on how they believe their line of battery-powered products could prove beneficial to professional landscapers and how exactly they could begin to see a return on investment (ROI) by using these products.