As part of Total Landscape Care's look back on 2019, here are the top 10 stories during the month of July.
10. The Greenery, Inc.: Empowering landscapers through employee ownership
To be the oldest landscaping company on Hilton Head Island, South Carolina, is no small feat and even when The Greenery, Inc. was first getting started, founders Berry and Ruthie Edwards chose a name that would live beyond them.
"They didn't want it to be their names, which they could have done," says Lee Edwards, the couple's son and now president and CEO of The Greenery. "They had bigger plans for the company. They wanted to have something that was identifiable in the industry, but not necessarily have landscaper in the name."
Click here to read the full story.
9. How to structure your landscaping company for maximum productivity
Every landscaping company is always looking for ways to increase productivity, but one aspect you may not have considered is the overall structure and accountability for employees.
"Why is it so rare for employees to care about results?" asked Danny Kerr, director of assessment for Breakthrough Academy, during his educational session at the Snow & Ice Management Association's (SIMA) 22nd Annual Snow & Ice Symposium in Grand Rapids, Michigan.
Some of the responses offered up were if the employee doesn't buy into the company, if their rewards are lower than the owners or if there is no gain or loss for the crews, they probably aren't going to care about the results.
Click here to read the full story.
8. NALP hosts 23rd Renewal & Remembrance at Arlington National Cemetery
For the 23rd year in a row, the National Association of Landscape Professionals (NALP) held their Renewal & Remembrance event at Arlington National Cemetery in Washington, D.C.
Hundreds of landscapers from across the country gathered on these hallowed grounds to perform acts of service such as aeration, fertilization, irrigation installation and repair, mowing, liming, tree work, flower planting, hardscaping and more.
Click here to read the full story.
7. Industry roundup: Montgomery County upholds ban on pesticide usage on private lawns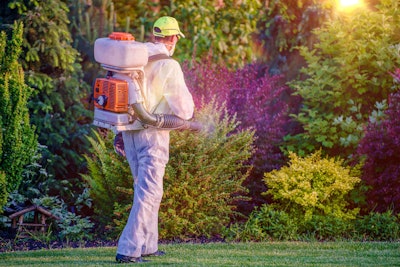 After a long, drawn out battle with Montgomery County in Maryland, legal options to challenge the county's ban on pesticide usage on private lawns have been exhausted.
Since 2015, a coalition of county lawn care, tree care and landscape professionals, as well as individual residents and homeowners associations, have strived to educate the county council on the fact that state and federal pesticide regulations ensure public health is not at risk.
The county had passed the legislation back in 2015 and was set to ban the usage of pesticides on private properties starting Jan. 1, 2018, but Montgomery County Circuit Court Judge Terrence McGann struck down the ban, citing it exceeded the county's power.
Click here to read the full story.
6. The Greenery, Inc.: Safety first leads to success
The Greenery, Inc., based on Hilton Head Island, South Carolina, reached $65 million in revenue last year and they credit their year after year success to their three-step initiative: safety, quality and production.
This three-step process follows in that exact order, with the landscaping company putting safety before everything else. While many may pay lip service to safety being important, The Greenery truly walks the walk when it comes to putting safety first.
Click here to read the full story.
5. Head for the Hill: Landscapers lobby on behalf of green industry issues
Green industry professionals gathered on Capitol Hill early Wednesday morning to discuss pressing issues with their state representatives and congressmen, such as the ongoing issues with the H-2B non-immigrant visa program and pesticide regulations.
The National Association of Landscape Professionals (NALP) hosted a pre-meeting breakfast and briefed attendees on the aforementioned topics, as well as shared practical tips on how to effectively communicate with their senators and congressmen.
Click here to read the full story.
4. Industry roundup: Greenworks introduces CU 800 UTV
Greenworks Commercial recently unveiled its first ever Utility Terrain Vehicle (UTV) this month.
The company says their new UTV line was first previewed in a prototype form at the 2018 GIE+EXPO last October, and the new CU 800 UTV is hitting the market this month.
Greenworks says the CU 800 is the first ever lithium-ion battery powered commercial grade utility vehicle with a UL-certified 13.8kw battery. The company says the UTV is designed to both navigate difficult rocky terrain and quickly cover distances at a top speed of 30 mph while transporting the tools needed for landscaping jobs.
Click here to read the full story.
3. Proper hydrangea care: To bloom or not to bloom?
With summertime in full swing, your customers will more than likely be out and about enjoying their landscapes, so it's important to make sure their garden is well maintained and flourishing.
Hydrangeas come in many shapes, varieties and colors, but if you find your customers noticing their hydrangeas not blooming to their full extent, never fear. There are a few simple steps you can take to check on the health of the plant and ensure it gets back on track.
Click here to read the full story.
2. African Americans in the green industry address lack of diversity
Like many landscapers' introduction to the green industry, Duane Draughon started out mowing lawns at a young age as a way to keep busy.
After serving the in Marine Corps, his lawn care business continued to grow, and he began to design and install brick patios as well. But unlike many other landscapers, Draughon had to hire two white employees to serve as the face of his company.
Click here to read the full story.
1. Industry roundup: LandCare sold to management team

Aurora Resurgence, a private equity firm, has sold LandCare to the company's management team and a small group of investors, led by Scott Brickman, former CEO of the Brickman Group.
Terms of the transaction were not disclosed. After being acquired by Aurora Resurgence, LandCare introduced a new management team in 2014. The company restructured and rebranded under current CEO and former Brickman EVP Mike Bogan's leadership.