As the year comes to a close, Total Landscape Care has compiled a list of the top 10 stories of each month of the year. Take a look at what stories were trending on our site in February 2019.
10. Super Duty getting new engine options, 10 speed transmission for 2020
Barely 36 months removed from its most recent refresh, Super Duty – Ford's heavy truck lineup – will see several upgrades for the 2020 model year.
Changes under the hood include an all-new Ford-designed and built 7.3-liter V8 gasoline engine which will serve as a second option to the standard 6.2-liter gasser in 2020 Super Duty pickups. A third-generation 6.7-liter Power Stroke diesel V8 with more power and torque will also debut
Click here to read the full story.
9. DeWalt and Stihl showcase products at World of Concrete 2019
Between harsh vibration and the occasional binding, big drills can cause big harm to your hands and wrists.
DeWalt is reducing these risks with its Flexvolt 60V Max 2-inch Combination Hammer (DCH773), which mitigates vibration and ergonomic harm to the user with active vibration control and an E-clutch system.
Click here to read the full story.
8. Best practices: Taking the time to sell solutions to your customers
Business is booming for many landscapers and with the ongoing labor shortage, plenty of landscaping companies have an abundance of potential customers reaching out to them that they don't know what to do with.
When companies are drinking from a firehose of job opportunities, it can sometimes be easy to blow through estimates without truly considering each project's possibilities.
Click here to read the full story.
7. Belgard streamlines hardscaping design work with its new Collections
Belgard is working to pave the way for landscape designers and contractors when it comes to streamlining the design/build process for outdoor spaces.
The paver provider has introduced Collections by Belgard, which is set to launch for this year's building season and roll out nationwide. The Collections combine complementary product offerings that go well with a home's style or design aesthetic.
Click here to read the full story.
6. Here's how much you should charge for aeration and overseeding in 2019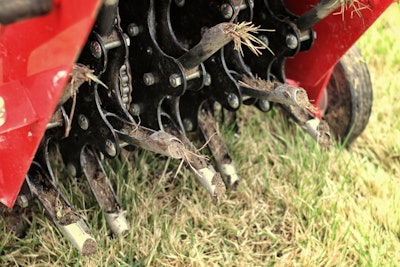 As a lawn care professional, you already understand how aeration can benefit a lawn by increasing the activity of beneficial microorganisms, oxygenating grass roots and more. When combined with fertilization and overseeding, aeration helps grass roots grow deeper, strengthens lawns and can help repair damage done by pests, pets and disease.
But, while many homeowners who hire a lawn care service are interested in adding on aeration and overseeding, you might be less sure about what to charge. That's especially true if you've never offered aeration and overseeding services before.
Click here to read the full story.
5. Tree dating app will have you yelling 'timber'
It's Valentine's Day and on this day of love, Husqvarna has introduced Timber, a dating app that matches tree lovers with beautiful trees across the globe.
Just like the Tinder app, you can swipe left or right on different tree species until you get a match. The tree types include oak, elm, spruce, redwood, birch and more.
Click here to read the full story.
4. Serial killer landscaper sentenced to life in prison
Bruce McArthur, a 67-year-old Canadian landscaper who was arrested on Jan. 18, 2018, has been sentenced to life in prison for the murder of eight men.
McArthur was originally charged with two counts of first-degree murder for the deaths of 44-year-old Selim Esen and 49-year-old Andrew Kinsman when he was arrested.
Click here to read the full story.
3. FCA recalling 182,000 2019 Ram 1500 pickups
A power-steering issue has led FCA to recall an estimated 182,238 model year 2019 Ram 1500 pickups.
An FCA US investigation discovered certain vehicles produced before Oct. 25, 2018, may have a battery ground-circuit fastener that was not secured properly.
The connection may become loose enough to intermittently create an open circuit and affect power steering.
Click here to read the full story.
2. Five mistakes you might be making with your pre-emergence herbicides
If your lawn care company offers weed control services, you know that it is crucial to apply pre-emergence herbicides two to three weeks before the emergence of the targeted weed.
Crabgrass is most common enemy that your company is up against, but to set your lawn care business apart from others, you need to make sure you are offering a superior maintenance experience. This means reducing callbacks and other issues with the turf.
Click here to read the full story.
1. Continuing the crusade against crape murder, pick the right cultivars
Once again, landscapers are getting away with murder and homeowners are blithely unaware there is anything wrong with the monstrosities they are committing.
Now, I'm not talking about actual murder but the forever cruel practice of "crape murder." This is when a landscaper tops a crape myrtle in the belief that they are helping it or is convinced that topping is a good form of pruning.